UPDATE: Snoop Dogg tweeted "prayers to his fans" Saturday. "Wishn u all a quick recovery. Love."
---
More than 40 concertgoers were hurt when a railing collapsed during a Snoop Dogg and Wiz Khalifa concert Friday night in southern New Jersey, sending dozens of people tumbling to the concrete below, officials and a witness tell NBC10 Philadelphia.
The collapse happened around 10:30 p.m. at the BB&T Pavilion in Camden.
prayers out to my fans. wishn u all a quick recovery. Love

— Snoop Dogg (@SnoopDogg) August 6, 2016
Most of the injuries were broken bones and bumps and bruises, county spokesman Dan Keashen said. One person, who was not identified was critically injured and taken to Cooper Trauma Center.
The person who suffered the most serious injuries when the railing collapsed during the concert was released on Saturday. Camden County officials say the person suffered an upper body injury in the collapse. Their name has not been released and further details on their injuries were not disclosed.
Concertgoer Katie Colbridge said Snoop Dogg and Wiz Khalifa had just gotten onto to a secondary stage at the popular outdoor venue when the large section of railing gave way. That stage was a few feet from the barrier that collapsed.
Snoop and Wiz were yelling for the crowd to "Stand up" when the collapse happened, according to several videos of the incident.
The railing separates the sloping lawn from a covered portion of the hall in the center of the venue. The lawn sits several feet above a concrete walkway. It appears the railing failed where the support poles met a support wall.
Several videos shared with NBC10 shows dozens of people tumbling on top of each other. Snoop and Wiz are ushered off the stage as security moved in to help the fans.
Colbridge said she saw three people being taken away by medics and about 20 people limping after falling off the lawn.
A triage area was set up next to the venue's parking lot with at least one person on a stretcher and several others on cots.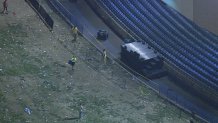 Colbridge said the concert, which was about halfway through, was abruptly stopped. In one video, an announcer could be heard asking people to remain calm and that the concert would start again soon. Concert organizers later canceled the rest of the show and cleared the pavilion.
NBC10 reached out to representatives with Live Nation, the venue's management, for comment but did not receive a response.
The BB&T Pavilion opened in 1995 as the Blockbuster-Sony Music Entertainment Center. The 25,000 seat venue remains largely unchanged since it was constructed. It has undergone several name changes, though, as sponsors have gone out of business or were acquired by other companies. Past names for the facility include the Tweeter Center and Susquehanna Bank Center.
Copyright AP - Associated Press