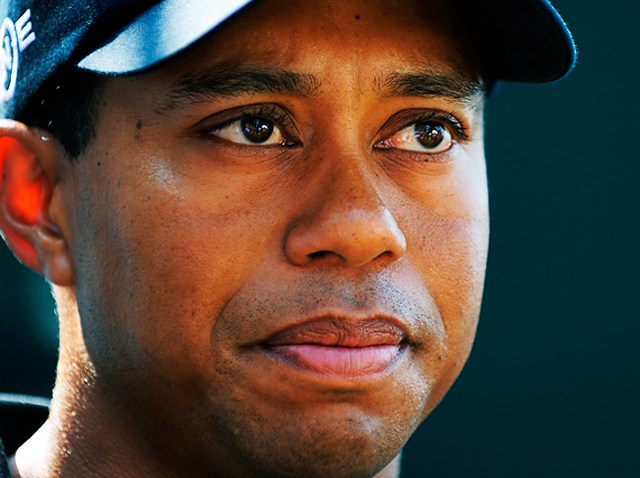 Leave it to Glenn Beck to offer the most absurd stroke yet in the clubbing of Tiger Woods.

The conservative commentator compared the scandal-besieged golfer to O.J. Simpson, pointing to the 911 call made from Woods' home early Tuesday.

"Do you believe Tiger Woods may actually be O.J. Simpson?" Beck asked on his radio show Tuesday.

"There was a woman taken to the hospital last night at O.J.'s – er, I'm sorry, I mean Tiger Wood's house," he added.

If Beck is pretending not to understand the differences between the cases, let's spell them out: The call from Woods' home, by all accounts, concerned his mother-in-law, who passed out from an apparent stomach ailment.

The infamous 911 call played during Simpson's 1995 double murder trial was made by his ex-wife Nicole Brown Simpson. The NFL Hall of Famer, who had just seen his ex-wife with another man while spying on her, could be heard ranting in the background.

Nicole Brown Simpson's 1993 call: "He's (expletive) going nuts… He's going to beat the (expletive) out of me."

Tuesday morning call from Woods' house: "Oh my God! My mom just collapsed. She collapsed in the bathroom. What do I do?"

Wood has been accused, in the press, of serial adultery. One of the alleged mistresses broke her silence today to say the golfing great broke her heart.
Simpson was accused in a court of law of slaying his ex-wife and Ronald Goldman (a criminal court jury acquitted the former football star, though a civil court jury later held him liable for the 1994 killings).

The rarely subtle Beck clearly is trying to create division by juxtaposing two popular black athletes who suffered vastly different falls from grace. Should we be surprised by such nonsense from a man who compared President Obama to Hitler?

Meanwhile, Beck's fellow conservative radio gabber, Rush Limbaugh, is making a politically fueled hyperbolic leap of his own. Limbaugh suggests Woods is partly responsible for a "depressed" African-American populous because the athlete's conga line of alleged mistresses, so far, is all-white. Limbaugh also ties Woods' woes to those of Obama.

"The black frame of mind is terrible. They're depressed, they're down," Limbaugh declared on his Tuesday show, adding that African Americans feel "abandoned" by the President.

"I'm sure Tiger Woods' choice of females is not helping them out with their attitudes there, either," he said.

Blame Tiger Woods for damaging his marriage, and for sullying an image that meant something to lots of folks of various races and ethnicities. The tabloid treatment and comedic roasting of a star of Woods' magnitude mired in a sex scandal is, well, par for the course.

But likening him to an accused killer and faulting him for the supposed depression of more than 40 million Americans during tough economic times unfairly turns the golfer into what exploitative media blowhards crave most: a political football.
U.S. & World
Stories that affect your life across the U.S. and around the world.
Hester is founding director of the award-winning, multi-media NYCity News Service at the City University of New York Graduate School of Journalism. He is the former City Editor of the New York Daily News, where he started as a reporter in 1992. Follow him on Twitter.
Copyright FREEL - NBC Local Media