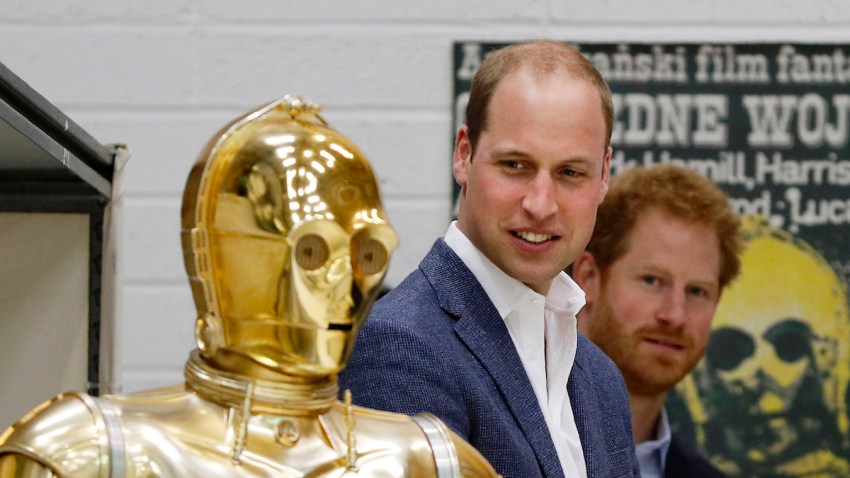 Prince William and Prince Harry visited a galaxy far, far away.
The royals were able to participate in a "Star Wars" fan's dream Tuesday when they visited the set of "Star Wars: Episode VIII" where they received a tour by actress Daisy Ridley (and played with her head cast) and got a chance to meet Mark Hamill, who plays Luke Skywalker, John Boyega, as well as director Rian Johnson.
And, of course, the brothers took part in a lightsaber battle.
U.S. & World
Stories that affect your life across the U.S. and around the world.
Not only that – they got a sneak preview of the film.
Kensington Palace announced Tuesday's visit yesterday on Twitter, and explained that the princes would be celebrating "Star Wars'" "fantastic British creative talent".
"The Duke of Cambridge, President of @BAFTA, and Prince Harry will visit the @starwars film set @PinewoodStudios tomorrow," the account tweeted. "Their visit will recognise the wealth of fantastic British creative talent involved in the production of the @starwars films...The Duke and Prince Harry will visit production workshops @PinewoodStudios, meeting the specialist teams working on the @starwars films." Prior to the princes' visit, Hamill tweeted, "Meeting #Royals William &Harry! Finally- a chance to get an informed answer on whether being Leia's brother makes me a Prince. #LordLuke."
There was British talent both in front and behind the cameras in 2015's "Star Wars: Episode VII: The Force Awakens," including Ridley and Boyega, who starred as Rey and Finn in the film. J.J. Abrams also featured British locations, shooting exterior scenes on Greenham Common, in the Lake District and Scotland.
"Star Wars: Episode VIII" will be released in 2017.
LOOK: Kate Middleton and Prince William go on Safari in India
Copyright E! Online