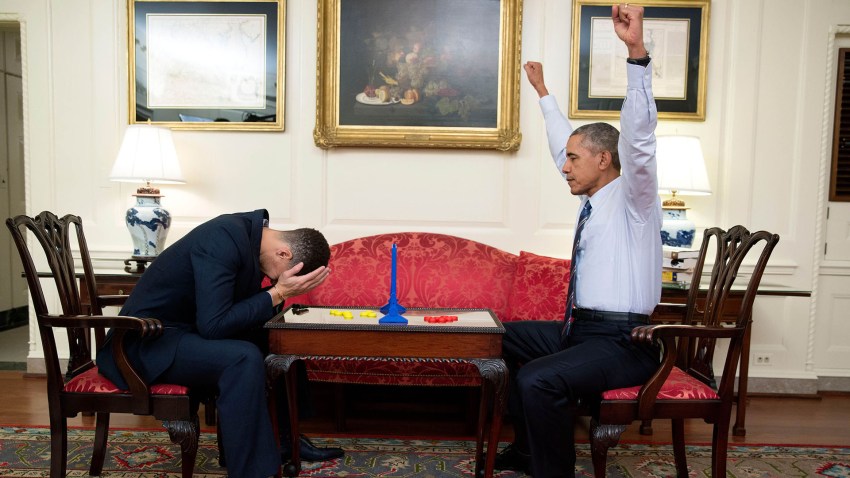 By now, the world knows that Warriors star Steph Curry is a master on the basketball court.
But head-to-head with the president of the United States in a match of Connect Four?
Not so much.
U.S. & World
Stories that affect your life across the U.S. and around the world.
President Barack Obama teamed with reigning NBA MVP Stephen Curry in a lighthearted public service announcement calling for Americans to mentor youth in their community to make a positive impact. The two play Connect Four (where Obama wins), create a lava science experiment together, and even take some time at the White House where the president gives Curry some shooting lessons. The point? To show that having a mentor is important.
The video was shown Saturday on "NBA Countdown" ahead of Curry's playoff opener with the defending champion Golden State Warriors against the Houston Rockets on Saturday.
Curry and Obama are pretty tight already.
The two golfed together last August. And Obama called out Curry during a February visit to the White House with the Warriors where the president gently mocked what Curry looks like when he "clowns" with defenders on the court. [[367711371, C]]
The PSA was done through "MENTOR: The National Mentoring Partnership" and motivated by Obama's "My Brother's Keeper" initiative, which raises awareness and calls for action to ensure all youth — including young men of color — reach their full potential.
Curry is well know for his Bay Area community activism, and his commitment to being a role model for youth.
After a recent visit to Martin Luther King Jr. Elementary in inner-city Oakland, he said, "The opportunity, obviously the 15-20 minutes you're with them, I think goes a long way. Just having fun with them is the most important. It was very beneficial."
Copyright AP - Associated Press