Nearly everything was set by the end of August.
The church was chosen, hall booked. The groomsmen would wear gray tuxes and light blue dresses for the bridesmaids. At the reception, there will be touches of the Jersey Shore — the place where Brittany Lowell and Jeff Doney first went steady.
"I'm not a huge fan of flowers, so I am incorporating other things in place of flowers and I am planning on making everything — bouquets, centerpieces, place cards," Lowell said of her upcoming wedding on Saturday, September 26.
Everything was going smoothly and then last November planning hit a big roadblock: Pope Francis.
The leader of the world's largest Christian church confirmed he'd make his first trip to the United States and spending three days in Philadelphia from September 25-27 to take part in the World Meeting of Families conference and deliver mass to some 2 million people.
"As soon as that happened I went into panic mode," the 26-year-old legal secretary and dance instructor from Northeast Philly said.
U.S. & World
Stories that affect your life across the U.S. and around the world.
It's not the serious influx of visitors or the traffic or the increased security that is causing a snag, rather, finding a place for the newlyweds-to-be and their guests to stay.
Anticipating the pontiff's trip, hotels blacked out large portions of the 30,000 rooms in the Philadelphia region to accommodate visitors for the Catholic conference and historic visit. The couple called hotels around their venue in Southampton, Bucks County, in Philadelphia and New Jersey. Each time, they were told there was either no room at the inn or they needed to book extended stays, Lowell said.
"It's been a nightmare," she said. "A lot of hotels said that they were completely booked and the ones that weren't said they were $300 a night and had a three-night minimum. No one's going to pay $1,000 to stay for our wedding and we can't ask anyone to do that."
Lowell and Doney have guests traveling from South Carolina, the Jersey Shore and Delaware County. She says even though the latter two are driving distance, they're concerned about people driving home after the nuptials.
Adam D'Alonzo and Amy Vandegrift have the same concerns. They booked their wedding for Friday, September 25 in Ambler, Montgomery County. That's the day Pope Francis is set to arrive. They went far in their planning before finding out booking hotels is near impossible.
"We do have family coming from California and Florida. I have family from South Philly as well," D'Alonzo, a 27-year-old nurse from Bensalem, told NBC10. "I don't know what the area is going to be like around that time, too, with all the people in town, so even driving may be a problem."
Like the other couple, they called hotels all over, but have been unable find reasonable rooms. They considered looking in Atlantic City, reaching out to bed-and-breakfasts or asking family to house people from far away, but are still looking for a miracle.
"We're kinda hoping that some hotels are going to open up," D'Alonzo said.
"I think some people were hoping for the hotel thing. I think they're kind of disappointed by it, but I don't really have a choice," added Vandegrift, a 23-year-old nursing student.
Ed Grose, Executive Director of the Greater Philadelphia Hotel Association, said the only real option for couples is to move their wedding date.
"The papal visit is the biggest event in our generation in Philadelphia and the economic impact and the jobs and the exposure for the city is priceless," he said. "I'm very sympathetic and I hope that the 10 months' notice was enough."
Cathy Gough and Jason DeCampli did move their date. Their Great Gasby-inspired wedding was originally set for Saturday, September 26, at Stotesbury Mansion right off Rittenhouse Square. The square is where they got engaged.
DeCampli, a 38-year-old architect from Woodbury, New Jersey, said some hotels would begin the room blocking process before turning around and saying rooms were blacked out. Not getting help from the hotels, he called the city. He didn't fare any better.
"It was interesting process and it was hard. No one would help. Do I have any options? We're spending a ton of money, it would be nice if someone could offer some suggestions," he said.
Luckily, their venue was able to switch the date without penalty and they hadn't booked many vendors.
"I'm glad I'm a procrastinator, I guess," said Gough, a 36-year-old high school librarian.
But for others, moving the date is not such an easy decision.
"If you don't do the wedding, you have to bet on 10-plus vendors being able to change the date," said Lowell. "We would lose so much money."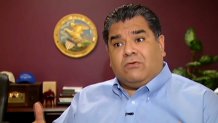 Grose said he hopes vendors would give couples a break with rescheduling their weddings. "Something of the magnitude of a papal visit, I would hope that the vendors of a wedding would understand and work with their clients," he said.
Lowell was able to secure a small room block at a Bucks County hotel, but expects her 200-person head count to drop. They included a warning to their guests in Save the Dates sent out this weekend.
"Something that's so positive for the city and so positive for Catholics is turning out to be not so positive for me," she said. "I'm honestly surprised that the priest hasn't called to cancel it yet. That was my first worry."
Still, all three couples agree Pope Francis' visit is great for the city and they're trying to make the best of the situation.
"We definitely say we'll never forget it. We'll take the memory," D'Alonzo said.
Quipped Gough: "If it had to happen, the pope seems like a pretty cool guy. If the date had to be moved for someone, he's a good reason."
---
Contact Vince Lattanzio at 610.668.5532, vince.lattanzio@nbcuni.com or follow @VinceLattanzio on Twitter and Facebook.