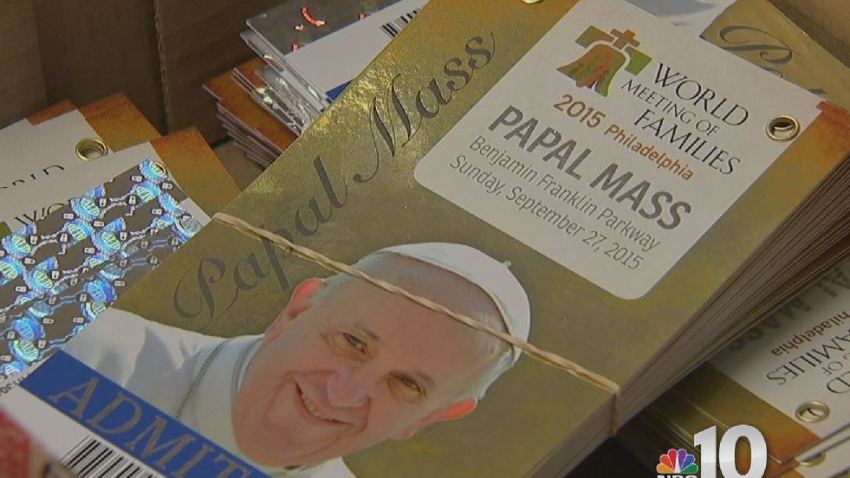 When Pope Francis gives an address on immigration and religious freedom at Independence Hall in Philadelphia on Saturday, he will speak as a religious leader for whom the treatment of immigrants is so central to his papacy that his first official trip was to a Mediterranean island where hundreds have died trying to reach Europe.
Francis will meet with immigrants before his speech at the place where both the Declaration of Independence and the U.S. Constitution were signed, and bless a 5-foot-tall cross symbolizing the journey of faith of Latino Catholics.
"It will be the perfect venue for him to harken back to our roots as a nation, and remind us of our heritage and the principals on which our nation was built," said Kevin Appleby, director of migration policy for the U.S. Conference of Catholic Bishops.
U.S. & World
Stories that affect your life across the U.S. and around the world.
The South American son of immigrants himself, Francis is making immigrants one of the focuses of his first visit to the United States. At a time when a top Republican presidential contender, Donald Trump, advocates for a wall along the Mexican border to keep out what he labels rapists and other criminals, Francis urges respecting the reasons that children, women and men leave their homes.
Speaking to the U.S. Congress on Thursday, Francis urged its members to be humane and just as they responded to the migrants pouring into Europe and the immigrants, often undocumented, coming to the United States from Latin America.
"We must not be taken aback by their numbers, but rather view them as persons, seeing their faces and listening to their stories, trying to respond as best as we can to their situation," Francis said.
A volunteer for the pope's visit in Philadelphia on Saturday said Francis' address was coming at the right time given the anti-immigrant rhetoric that has become part of the public discourse.
"I think it's perfect timing because our country just seems to need it," said Kim Vinch, 51, of Lawrenceville, N.J. "We need reform. We need this kind of guidance.'
Francis' worldview is from the bottom up, with immigrants at the core of what he cares about, said John Carr, director of Initiative on Catholic Social Thought and Public Life at Georgetown University.
When Francis visited Lampedusa in 2013, the tiny Sicilian island toward which tens of thousands leaving North Africa have fled, he said the drownings of migrants was "a thorn in the heart." Two years later, with masses of Syrians refugees arriving in Europe, he is calling on every Catholic parish, monastery and convent to take in a family.
"For Pope Francis this is personal not political. This is moral not ideological," Carr said.
Francis' visit is replete with reminders of his appeal for better treatment for immigrants, including meetings with day laborers and children who crossed the border unaccompanied by adults. Francis had talked about arriving in the United States via a border crossing, though in the end he flew into Joint Base Andrews.
"To enter the United States from the border with Mexico would be a beautiful gesture of brotherhood and support for immigrants," Francis said.
Immigrants from Los Angeles, among them young children, headed to Washington, D.C., and Philadelphia to appeal to Francis for help. Five-year-old Sophie Cruz, whose parents are from Oaxaca, Mexico, told NBC Los Angeles that if given the opportunity to meet the pope, she would ask Francis to talk to the president and Congress about legalizing her parents and others.
She did manage to meet the pope — delivering a shirt and letter to him during a parade in the nation's capital. A coalition of Los Angeles-based immigration rights groups, the Full Rights for Immigrants Coalition, had prepared for nearly a year for Sophie to make a dash for the popemobile. She wrote the letter herself, the group said.
Raesha Cartagena, the mother of a Catholic school student in New York City, said she thought Francis was trying to ensure that all people are treated with respect regardless of whether they are citizens.
"What he's trying to teach is tolerance," she said. "I think he's trying to focus on teaching people how to create compassion and understanding for people who are new here."
Observers not expect him to come with particular legislative challenges to American politicians. But even when he is not specific about policies such as immigration reform, his position and that of the Roman Catholic Church is clear, Appleby said.
"I think his purpose is not necessarily to get into the domestic policy debate or political season but to move hearts, to change hearts," he said. "So he's going to do everything in his power to raise up the common humanity that we have with migrants."
Francis' views on immigration and some other topics are out of step with many in power in the United States. A Gallup poll found that his favorability rating had dropped from 76 percent in February of last year to 59 percent in July, a decline driven by Catholics and conservatives.
In the last Congress, the Senate passed a bipartisan immigration bill that would have offered citizenship for many of the United States' 11 million unauthorized immigrants, but the bill died in the House.
By contrast, this Congress has opposed President Barack Obama's executive orders to stop the deportation of some undocumented immigrants.
William D'Antonio, a senior fellow at Catholic University in Washington, D.C., said the Catholic church has gone from one that was almost entirely of white, European heritage to one that is almost half Hispanic. Of the 51 million Catholics in the United States, 40 percent are Latino.
"We are simply doing something that continues the American pattern of being an immigrant society," he said.
Latinos will look to him as their champion, said Carr, with Georgetown University. He said that he hoped that people opposed to immigration reform would listen to the pope, step back from the politics and think about the problem in moral terms.
"It is a wonderful thing that on his first visit to the United States, he will stand in Independence Hall and see where our nation began," he said. "It will remind him and it will remind the rest of us I hope what makes us who we are."