What to Know
Philadelphia Police Commissioner Richard Ross resigned from his post abruptly on Tuesday, the mayor's office announced.
Ross's ouster is tied to a federal lawsuit filed by two female officers. The women say they endured sexual harassment and discrimination.
Ross is a 30-year veteran of the police force. He just weathered a mass shooting of six officers in North Philadelphia.
A day after Richard Ross Jr. abruptly resigned as Philadelphia police commissioner, the 55-year-old walked out of department headquarters in civilian's clothes and said his departure was completely voluntary and self-motivated.
"I was not compelled to do so," he told a few reporters Wednesday morning. "My love for this city has compelled me to make a decision that is bigger than me."
Ross stepped down just one day after a lawsuit filed by two female police officers alleging sexual harassment was amended to include an accusation that one of the women had an affair with the former commissioner.
The lawsuit cites an alleged text message exchange between one of the plaintiffs, Cpl. Audra McCowan, and Ross in February in which she tried to report the harassment. The suit claims Ross was dismissive and refused to take action on her report due, in part, because of an alleged affair the two had before he became commissioner.
"During these conversations, Commissioner Ross also stated he was going to 'school' Ms. McCowan on sexual harassment and indicated that he continues to be upset with her and was getting in the way of redressing her complaints in retribution for her breaking off their two-year affair, which lasted from 2009 to 2011," the lawsuit alleges.
Both McCowen and the other plaintiff, Officer Jennifer Allen, have been with the department for 15 years, according to the suit. Their attorney told NBC10 they have been on leave since the initial filing of their lawsuit.
Their attorney, Ian Bryson, also said both of his clients were surprised by Ross's resignation and that they weren't looking for him to resign but instead wanted to shed light on a serious workplace issue.
"When we filed the complaint originally we weren't interested in dragging Ross' dirty laundry through the process," Bryson said in a statement. "But eventually we had to show why these issues weren't fully addressed and showcase who was responsible."
The suit remains active and pending, according to court documents and a spokesperson for the mayor's office.
On Wednesday, Ross told reporters that he was proud of the work accomplished in his years as police commissioner. He highlighted the department's handling of the 2016 Democratic National Convention, 2018 Super Bowl victory parade and ending last week's seven-hour standoff peacefully.
He declined to talk about any claims in the lawsuit, but said the truth would become known and ultimately clear his name.
"The only thing I will tell you is that in 55 years in life and 30 years in law enforcement, God and everyone else who knows me knows that I have never targeted a person," Ross said.
"I have never sought retribution on a person, personally or professionally. So I take serious umbrage with that part of this issue as well as others…but all I'm able to say now is that my Lord and Savior knows what happened and what didn't happen."
Ross also said "fatigue" had set in after 30 years on the police force and 14 years within its highest ranks.
"It is with great regret that I leave something I enjoy, but we have been through a lot in the past three-half-years," Ross said. "We've been through a great deal."
His resignation came as a surprise to Mayor Jim Kenney, who first learned of Ross' intentions Monday evening, the mayor said. The two often appeared together in recent months, presenting a united force in the wake of rising gun violence throughout the city.
On Wednesday, Kenney said choosing a police commissioner is perhaps his most important job and lamented the loss of Ross. However, after learning more about the federal lawsuit detailing dozens of allegations of sexual harassment, plus racial and gender discrimination, within the Philadelphia police force, Kenney ultimately accepted Ross' resignation.
U.S. & World
Stories that affect your life across the U.S. and around the world.
Allen and McCowan claim in the lawsuit that they have endured years of groping, mistreatment and retaliation. The women said their complaints of being physically and verbally harassed by supervisors and colleagues were ignored by department brass.
In separate appearances Wednesday morning, Ross said he felt worn out by his position as top cop and Kenney said he understood.
Just last week, after a violent standoff that left seven police officers injured, Kenney asked Ross if he was OK, the mayor said.
Ross answered, "'No, I'm tired. I'm really tired.'"
Ross rose to first deputy commissioner under former Commissioner Charles Ramsey and eventually was promoted by Kenney in January 2016.
Unlike other police commissioners who jump from big city to big city, Ross served his entire career in his hometown. He attended Central High School and became a champion for partnerships with other law enforcement agencies across the city.
Recently, Ross oversaw efforts to expand diversion programs to connect Philly youth to resources rather than sending them to jail. He called for a holistic approach to reducing gun violence and recidivism, echoing the words of both Kenney and District Attorney Larry Krasner.
Still, Kenney said Ross' handling of alleged sexual harassment and racial bias complaints raised serious questions about the culture of the police force. As a result, the city has hired a third party to investigate the claims and issue recommendations for the how the police department should handle sexual harassment allegations moving forward, Kenney said.
John McNesby, president of the Fraternal Order of Police Lodge 5, said that there is "no room" in the workplace for the behavior detailed in the lawsuit. Nonetheless, he called Ross "well-respected" and said he was "shocked" at the sudden resignation.
Deputy Commissioner Christine Coulter was named acting commissioner while a search for a permanent replacement takes place. Coulter is also listed as a defendant in the federal lawsuit.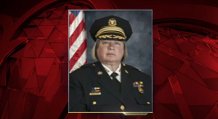 Ross praised Coulter's decades of experience and said it is time for the police department to have a woman in charge.
Coulter would not say whether she intends to apply for the job of commissioner but said that she has always "been honored, as woman and a police officer, to serve this city.
"I look forward to continue doing that," she said.