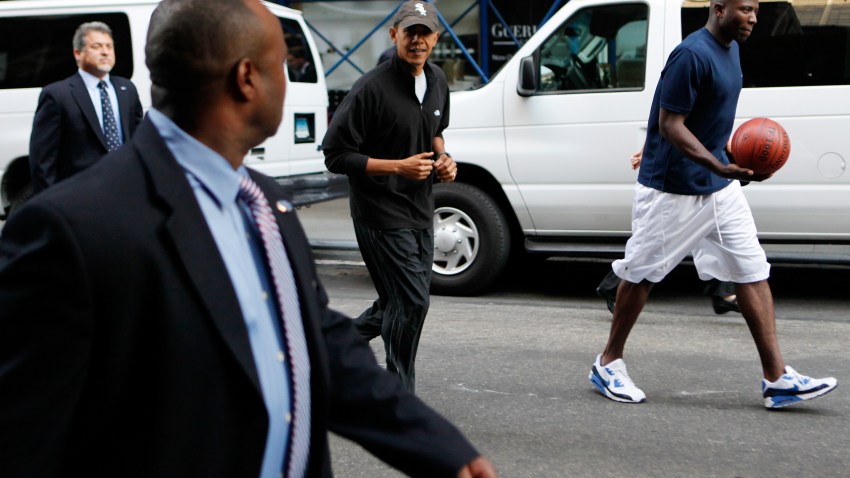 President Obama exercised his political power Monday evening by shooting some hoops in a Manhattan church -- less than 24 hours before he makes his U.N. General Assembly debut that'll include a meeting Tuesday with the Israeli and Palestinian leaders about stalled Mideast peace negotiations.
President Obama, who is staying at a swanky midtown hotel this week, set out on-foot around 5:45 p.m. for the indoor basketball court at Saint Bartholomew's Church on 50th Street.
Obama was dressed for the occassion in black track pants, a black fleece and a black White Sox hat. He was accompanied by his "body man," Reggie Love, who apparently was also his opponent.
U.S. & World
Stories that affect your life across the U.S. and around the world.
When asked "Who's gonna win?" the president replied, "Ask Reggie how he did last time!"
Tuesday is a big day for President Obama, who is due to meet with Israeli Prime Minister Benjamin Netanyahu and Palestinian President Mahmoud Abbas on the sidelines of the General Assembly.
Mr. Obama will also deliver his first address as president to the U.N. General Assembly on Wednesday, and he is scheduled to chair a special session of the U.N. Security Council about nuclear non-proliferation Thursday.
The president might have had another reason for the workout: He came face to face with embattled New York Gov. David Paterson on Monday -- just days after it was leaked that he wants Paterson to stand down during the 2010 election.