What to Know
Bruce Rogal, 59, of Glenmore, was accused of shooting and killing both of his parents after trying to shoot at his ex-wife.
Investigators say Rogal had been served his final divorce order which "set him off."
Rogal was found dead early Thursday after a brief, intense manhunt.
A gunman who was upset that his ex-wife had been awarded their home in their divorce was found dead after he shot at her and killed both his parents in Pennsylvania.
Few details were available during a short media briefing with Chester County District Attorney Tom Hogan. But he confirmed that Bruce Rogal, 59, of Glenmore in Chester County, was dead after a brief manhunt and a police chase. State police said he died after exchanging gunfire with police.
Rogal crashed his Honda Odyssey into his ex-wife's home early Thursday, authorities said. No other information about his cause of death was released, but Hogan stressed that the community was returning to normal.
"The last five or six hours were extremely tense," Hogan said. "Everyone knew that we had a killer out, and a killer could kill again."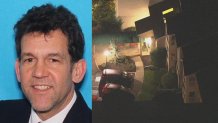 Between killing his parents Wednesday night and being spotted by police early Thursday, Rogal drank beers at a friend's house in East Fallowfield, never saying a word about what was going on, sources with knowledge of the investigation told NBC10.
U.S. & World
Stories that affect your life across the U.S. and around the world.
Rogal had been served with his final divorce order Wednesday, which awarded his former home to his ex-wife, Hogan said at a Wednesday night news conference.
The divorce order "appears to be what set him off today," Hogan said.
Rogal first went to the house they shared in West Bradford Township at 5:45 p.m. and shot at his ex-wife six times as she changed the oil in a car in her driveway, police said.
The hysterical ex-wife ran down the block, dodging at least five bullets, neighbor Heather Everett told NBC10.
"She ran into our house and we locked all of the doors," Everett, who was having a family BBQ at the time, said.
The ex-wife was not hurt, but other houses nearby were hit. The shooter pointed his gun at Everett's mother and a man but didn't fire, Everett said.
He then drove to his parents' senior living center in nearby East Goshen Township at 6:15 p.m. and shot them dead, police said. William and Nancy Rogal were both in their late 80s, Hogan said.
The killings stunned suburban neighborhoods outside of Philadelphia and led to blockades and lockdowns that stretched for miles.
At the nursing home, the Bellingham Senior Living Center on East Boot Road, staff were locked down for hours as a swarm of police, ATF and ambulances responded to the facility.
Mike Galczyk said his daughter, Cayley, is a server at Bellingham. "She's texting us saying she's hiding inside with her team," he said. "She told us to stay safe out here."
Cayley wasn't supposed to work Wednesday; she was called in to cover a shift. Her dad was just a few blocks away from picking her up when he was stopped by police roadblocks which were placed up to two miles around Bellingham. Galczyk was later able to reunite with his daughter.
Schools within the two-mile-wide roadblocks were locked down as a precaution. Some students were stuck for some time inside West Chester East High School, according to a message from the district's superintendent that was sent to parents. District officials had to coordinate their release with police.
The scene was finally secure after 10 p.m., Hogan said.
State police began to pursue Rogal around 1 a.m. Thursday after he drove along Strasburg Road, near their barracks, Pennsylvania State Police Trooper James Spencer said. The police pursued on the ground at undisclosed speeds and in the air for about 3-1/2 miles into the neighborhood where Rogal's ex-wife lives.
Rogal crashed into his ex's home. He exchanged gunfire with the troopers during the pursuit, Hogan said. It was unclear if Rogal shot himself or was shot by police as he was found dead in the driver's seat, surrounded by firearms, Hogan said.
No troopers were hurt. Local and county police also responded to the home.
Rogal had a history of domestic violence incidents involving his wife, according to a protection from abuse order his wife obtained in June 2015 that expired in June 2017. The couple has at least one son, according to court records.
The West Chester Area School District, which serves children in the area of the shootings, opened as normal Thursday after going on lockdown overnight.
The Pennsylvania case was one of a series of shootings that made headlines across the nation over a 24-hour period.
In western Pennsylvania Wednesday, a man facing charges stemming from a domestic violence arrest walked into a court building and shot and wounded four people, including a police officer. The gunman was shot by police and died.
Near the Delaware state line in Maryland, multiple people were killed in a shooting at a Rite Aid distribution center Thursday morning.
In Wisconsin, four people were injured, one of them critically, when a heavily armed employee opened fire in the offices of a software company Wednesday.
DOMESTIC VIOLENCE HELP: The National Domestic Violence Hotline at 800-799-7233 or 800-787-3224 (TTY) provides people in distress, or those around them, with 24-hour support.