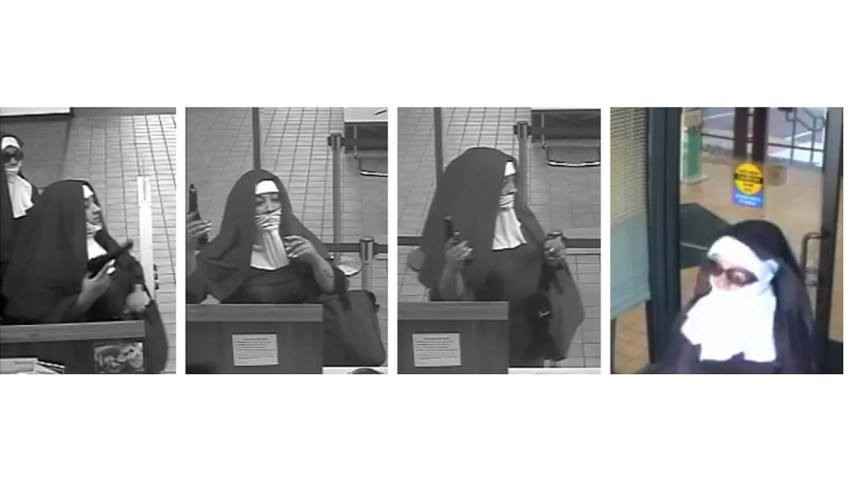 Two women charged Monday with robbing a New Jersey bank are also suspected of trying to rob a bank in Pennsylvania's Pocono Mountains while dressed as nuns, The Associated Press reported.
Nineteen-year-old Swahilys Pedraza-Rodriguez, of New Haven, Connecticut, and 23-year-old Melisa Aquino Arias, of the Dominican Republic, appeared before a judge in Newark, New Jersey, on Monday. They're charged with robbing a bank in Garfield and were apprehended soon after leaving a bank in Teaneck, New Jersey.
The Garfield heist was Sept. 27. The women allegedly entered Spencer Savings Bank and asked a bank teller about opening an account there, according to a criminal complaint.
U.S. & World
Stories that affect your life across the U.S. and around the world.
"Arias, who was wearing a blue hijab, took out a black handgun and demanded money, while Pedraza-Rodriguez stood guard by the bank manager," the complaint said.

Then on Sunday, the pair allegedly entered NVE Bank in Teaneck. This time Arias was wearing an orange hijab and Pedraza-Rodriguez wore a black head covering, according to the complaint.
After the women requested information about opening an account, an employee recognized them as the alleged Garfield bank robbers. The worker went to alert police but, the women fled. They were nabbed soon after.
Law enforcement officials say the women are also suspected in an attempted robbery of the Citizens Bank in Tannersville, Pennsylvania, on Aug. 28, the AP reported. The FBI told NBC the case was under investigation and had no further comment.
The FBI had posted surveillance photos on Twitter from the Pennsylvania heist, describing the women as wearing nuns' habits.
The women's attorneys didn't immediately return messages Tuesday.
CORRECTION (Oct. 18, 3:37 p.m.): This story and headline have been corrected to more accurately describe the womens' clothing in the incidents at banks in New Jersey and Pennslyvania. The women also haven't been charged in the Pennsylvania case. They were only charged in one of the bank incidents in New Jersey, the U.S. Attorney's Office said.
Copyright AP - Associated Press