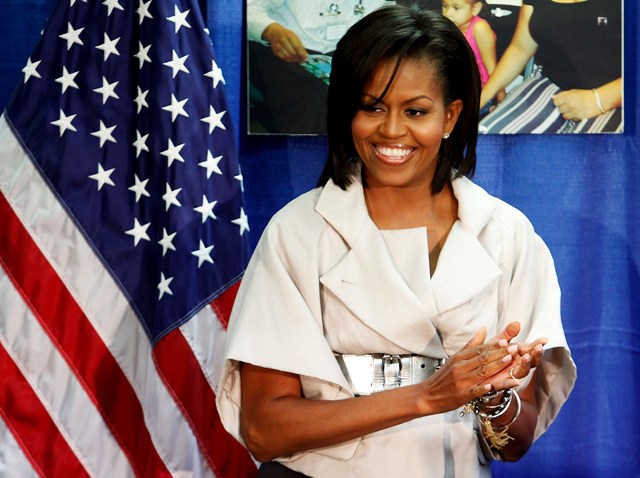 So, still caught up in the battle of its life over health care reform, the Obama administration has been hit with what it perceives as a "great" idea -- using First Lady Michelle Obama as its "secret weapon" to help sway minds:
"What she's doing is putting a personal and human face on the issue ... there's nothing more crucial," said Washington Post columnist Sally Quinn. "Everybody gets sick, and everybody has someone in the family that gets sick."

"I think if you can humanize it and personalize it, it suddenly brings it home to people -- especially those who are screaming and yelling about the government taking over," Quinn said.

On Friday, the first lady, a former hospital administrator, spoke about the issue to a crowd at the White House, highlighting her own family's experience with health care.

In one touching moment, Obama recalled when daughter Sasha exhibited signs of potentially deadly meningitis when she was 4 months old.

"We didn't know what, but he [the doctor] told us she could have meningitis, so we were terrified. He said get to the emergency room right away," she said. "Fortunately, things worked out."

"But it is that moment in our lives that flashes through my head every time we engage in this health insurance conversation. It's that moment in my life, because I think about what on earth would we have done if we had not had insurance."
Great idea? How about a really, really, really bad, no-good, awful idea!?!?!?
U.S. & World
Stories that affect your life across the U.S. and around the world.
I guess we should forgive the Obamas. After all, there is no precedent for a first lady getting involved in health care reform, right?
How ironic that this administration, which has been trying so hard to do exactly what the opposite of what the Clinton administration did during the 1993-94 health care battle that it finds itself about ready to repeat perhaps its biggest blunder:
That would be turning the expressly non-political office of First Lady into a clearly propagandizing extra arm of the administration's policy shop.
True, Michelle Obama making a few comments here and there about what it was like when her daughters were sick isn't on the same scale as Hillary Rodham Clinton running behind-closed-door meetings with 100-some health-care analysts and experts. But stepping away from the ceremonial aspects of the Office of the First Lady carries major risks. This is especially true when she's not championing a relatively non-controversial topic such as keeping kids off drugs (a la Nancy Reagan). One could hardly get more controversial than the contentious health-care debate.
The major risk here is that by making Michelle a political agent, it invites political attacks from the opposition. Right now, the first lady is rightly off-limits from political attacks. But, as the '90s showed, a first lady can sustain major damage once she plunges into a battle over policy.
We've seen this movie before, President Obama. It doesn't end well. Don't bother giving your wife a supporting role. Trust me. She'll end up thanking you (unless she's interested in running for Senate herself someday).
New York writer Robert A. George blogs at Ragged Thots. Follow him on Twitter.
Copyright FREEL - NBC Local Media