Valeria Syanchuk should have been celebrating her 18th birthday on Thursday, but instead the Bergen County, New Jersey, resident took cover in a cafe with her mother and grandmother moments after a driver plowed into one of Spain's most popular destinations.
What should have been a joyous celebration turned into hours of horror and uncertainty, she said. This was her first visit to Barcelona, and terrorism was not on her mind.
"I was panicking," she said. "People kept looking at us like something was wrong, and we had no idea what they were saying."
Witnesses described hordes of people running and screaming in the moments after the attack. One tourist from Argentina saw a 3-year-old boy die on the street. A brown stain is all that remains two days later.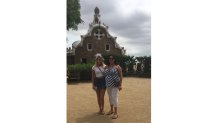 Syanchuk and her family landed in Barcelona around 11 a.m. By that evening, the three women were tired from wandering the Gothic Quarter's serpentine streets. Her grandmother asked if they could stop and rest somewhere. As they entered a cafe, the employees scrambled to shut the gates.
"Do they know what happened?" asked one employee to another, Syanchuk said.
U.S. & World
Stories that affect your life across the U.S. and around the world.
The cafe workers explained they had received an alert from the Spanish government to remain inside because a terrorist attack was underway. Terrified, the employees wanted to get home and advised Syanchuk's family to return to their hotel.
The women hurried through the maze-like streets, but police had the area on lockdown. The cafe was already closed and their hotel entrance was blocked. Instead, the women were forced to wait in the street as armed guards descended onto the area.
"We got lucky because my mother wanted to sit down," Alena Ansolis, Syanchuk's mother, said. "We were heading back to the hotel. It happened right outside there."
Hours passed and the only information available was that the driver remained on the loose.
"I kept searching news and kept refreshing every couple of minutes," Syanchuk said. "You have no idea who these people are, if they're standing right next to you."
When the immediate threat passed, Syanchuk and her family asked police to escort them back to the hotel. Since then, the three have stayed close together but decided to continue their journey through Europe. Syanchuk will be meeting relatives for the first time in Germany, and she doesn't want to miss the opportunity to experience something positive after the events of this week.
"Walking down the street is so emotional," she said, adding that the increased police presence and outpouring of sympathy makes her family feel safer.
"I saw a man driving a garbage truck and he got out to put a rose on a memorial. Everyone has come together. It doesn't matter who."
The streets of Las Ramblas are brimming with memorials dedicated to the 13 people who died and the more than 100 who were injured in Thursday's attack. Tourists and residents continue to offer signs, flowers, candles and other mementos for the fallen.
An American from California was among those who died in Thursday's attack. Jared Tucker, 42, and Heidi Nunes-Tucker, 40, were celebrating a belated honeymoon with sangria when Tucker stopped for a bathroom break. A mere minute passed before chaos erupted in the streets, Nunes-Tucker told NBC.
The dozen other fatalities included tourists from Canada, Belgium and Italy. A three-year-old Spanish boy also died.
On Saturday, two days after the attack, dozens of taxis paraded into Las Ramblas bringing with them giant wreaths to place at a large memorial where the rampage first started. Some wept while they addressed a sea of onlookers.
"I am Muslim and these people don't represent us," said one driver. "Criminals have attacked us, but true Muslims stand here with you today and always will."
After presenting the wreaths, these taxis paraded down Las Ramblas honking their horns and waving. Spectators clapped and sang, including Syanchuk, whose balcony faces one of the memorials.
"There are so many more people than when we first arrived," Syanchuk said. "People have been chanting and marching. I've never seen anything like it."