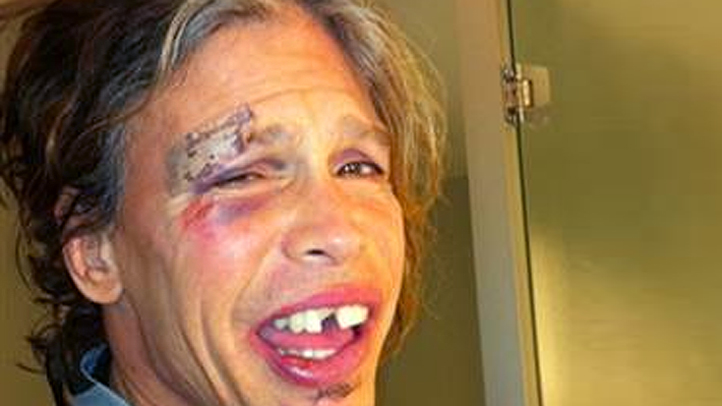 Steven Tyler said it was food poisoning, not drugs that led to his hospitalization earlier this week in South America.
The 63-year-old Aerosmith frontman and "American Idol" judge explained on NBC's "Today" show Thursday that he lost a couple teeth and had four stitches near his eye from falling in a hotel shower Tuesday in Paraguay's capital, Asuncion.
A photo aired on "Today" showed Tyler with a pronounced gap between his teeth, a black eye and other face bruising from what the rocker called "Montezuma's revenge."
U.S. & World
Stories that affect your life across the U.S. and around the world.
He laughed after host Matt Lauer told him he looked like the "wrong guy in a fight."
"Quite frankly I passed out," Tyler explained. "I was in the shower and I got nauseous and I started to get sick and I just passed out."
He said he woke up "with the water running on me wondering where in the hell I was."
After his tour manager called the American Embassy, Tyler was rushed to "the best hospital" where he had his eye stitched up, some dental work and even plastic surgery, he said.
Lauer asked whether Tyler had really fallen "in the shower or off the wagon," a turn of phrase Tyler said he appreciated.
"People thinking that is natural and normal," said Tyler, who has opened up in the past about struggles with drugs and alcohol.
In 2009, Tyler broke his shoulder while taking a spin off a catwalk while performing "Love in an Elevator" during a South Dakota show and entered rehab for painkillers.

He told Lauer that speaking to "Today" by phone from Buenos Aires, Argentina at such an early hour was evidence that he wasn't "someone who uses substances."
Tyler went on to explain why he has continued to perform in South America despite his injuries.
"Short of having my leg taken off, people are going to expect me on stage no matter what," he said. "I went out on stage and wore my sunglasses for the first song. I took them off and the crowd roared."

Visit msnbc.com for breaking news, world news, and news about the economy