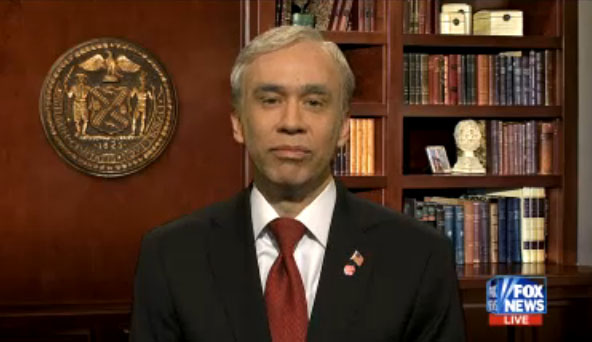 Updates in the Boston Marathon bombing case and a busy week on Capital Hill made for a politically-charged and news-driven episode of "Saturday Night Live."
The show began with a Fox and Friends segment that touched upon this week's positive jobs report and NBA veteran Jason Collin's landmark coming out announcement in Sports Illustrated on Monday.
New York Mayor Michael Bloomberg (Fred Armisen) soon joined the show and made sure the hosts knew his new primary focus was gun control. After spending a hearty chunk of his mayoral run on health issues such as portion sizes and cigarette smoking in public, the Fox and Friends team wanted an explanation as to why Bloomy cared about guns all of a sudden.
U.S. & World
Stories that affect your life across the U.S. and around the world.
"It's just the right time," Bloomberg said. "America's gun owners are ready to be lectured by a tiny, Northeastern Jewish billionaire."
Rather than use guns, Bloomberg said he thinks New Yorkers should handle their problems in other ways.
"Guns make ordinary confrontations much worse," Bloomberg said. "New Yorkers should settle their differences the traditional way, by yelling ethnic slurs at each other in the middle of the street, then quickly walking away."
The Fox and Friends anchor team ended the segment by mocking Bloomberg and sipping from a 16-gallon Big Gulp.
Weekend Update with Seth Meyers continued the discussion of the week's news by addressing the continued developments in the Boston Marathon bombing case, the on-going gun control debate and President Obama's statements about military action in Syria.
On Wednesday three college friends of Boston bombing suspect Dzhokhar Tsarnaev were arrested after allegedly going to his dorm room and disposing of his backpack, which contained fireworks emptied of powder. Authorities said the situation began after a phone call with Tsarnaev where the suspect laughed off a text from his friends that said he looked like one of the Boston bombing suspects.
"You know when they say, If you see something, say something,' they don't mean, to the terrorist," Meyers said. "When Tsarnaev got the text from his college friends, he reportedly responded, 'lol, you better not text me.' So remember, if you use 'lol' you're no better than a terrorist."
After discussing President Obama's unwillingness to commit to military action in Syria to avoid several blunders during George W. Bush's tenure in the oval office, Meyers tackled a new proposal that would allow for self-background checks for gun buyers.
"The way the plan works is, it doesn't," Meyers said.
Political commentator James Carville (Bill Hader) then joined the show and also discussed gun control laws and the new proposal for self-background checks. Despite the fact that 90 percent of Americans are for background checks, a bill supporting the measure cannot get through Congress.
"What is it going to take before there is gun control in this country," Carville said. "Does the little fat kid from 'Modern Family' have to shoot Betty White"?
Carville proposed his own plan to limit gun violence in the country, which included locking up white males from the age of 12 to 30. During their confinement, they would not be allowed access to guns and would only interact with Xboxes and "high-speed porno" until they had "no more fight."
The prominent Democratic pundit had his own thoughts on why the proposed gun reform bill hasn't made it out of the Republican majority congress.
"I think after the last election, all the Republicans had a meeting and it went a little something like this, 'We lost. What are we going to do? Why don't we pretend we won?'" Carville said. "And it's working. They used to walk all over Barack. Now they just walk right through him like he's a ghost."
Carville then announced that he had his own ghost, Gram mammy Carville, who never leaves his side.
This week's host was "The Hangover 3" star Zach Galifianakis. In one segment, Galifianakis was joined by "The Hangover 3" co-stars Bradley Cooper and Ed Helms. "Mad Men" star Jon Hamm and "Game of Thrones" star Nikolaj Coster-Waldau also made surprise appearances. The musical guest was Of Monsters and Men, who performed "Little Talk" and "Mountain Sound."