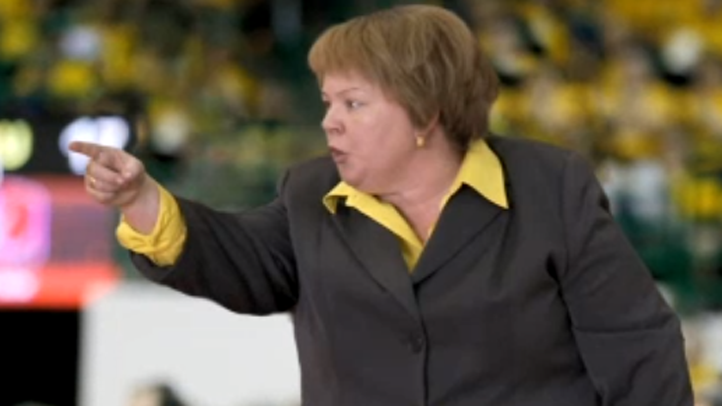 After Justin Timberlake's much-heralded performance before "Saturday Night Live's" near-month break, the show had some big shoes to fill this week. Aided by a slew of big headlines on Weekend Update and several guest stars, "SNL" delivered a memorable one.
It opened with a C-Span press conference from North Korean supreme leader Kim Jong-Un (Bobby Moynihan) where he discussed the reopening of a nuclear facility and launched into a bit about lifting the country's ban on same-sex marriages -- his thinking "evolved" because his nephew was gay, but he still had to execute the nephew for hosting a weekly book discussion group in his apartment.
Jong-Un went on to discuss his personal abilities in the bedroom ("If you don't believe me. You'll be sent to a labor camp.")
U.S. & World
Stories that affect your life across the U.S. and around the world.
And after Jong-Un discussed how with "uncanny vision and heroic foresight" he had successfully picked all of the winners in this year's NCAA tournament, NBA legend and personal friend Dennis Rodman finished the press conference with a fist-bump and delivered the show's signature "live from New York" catch phrase.
Host Melissa McCarthy's monologue involved the Oscar-nominated actress being unable to get on her feet, thanks to uncomfortable heels. McCarthy even managed to dance on the floor during the skit. Later in the show, McCarthy played a contestant on "The Voice," a confused letter-turner on a TV game show and an energetic contestant in a ham cook off.
In an ode to former Rutgers coach Mike Rice, who was fired on Wednesday for berating his players both emotionally and physically, McCarthy also played an aggressive college basketball coach that beat her players with baseball bats, bricks, T-shirt guns, toasters and even drove after them during practice in a golf cart.
"Weekend Update" with Seth Meyers tackled the news of the week, including rocket threats from North Korea and President Barack Obama's comment that California Attorney General Kamala Harris was "the best-looking" attorney general in the country.
"To make things worse (United States Attorney General) Eric Holder was standing right there," Meyers said.
In a special "Come On Congress" segment, Meyers had some words for Congress when it came to universal background checks for gun owners.
"Congress, 90 percent of Americans support universal background checks," Meyers said. "That's a higher percentage of dentists who are pro-flossing. Usually the only place where nine out 10 people agree on something is an intervention. And the tenth guy is the one arguing that he smokes meth to unwind."
Drunk Uncle (Moynihan) also made an appearance to discuss tax season.
"You know what I'm writing off this year," he said. "The next generation."
Later in the sketch, Drunk Uncle somehow managed to ramble the conversation towards the HBO show "Game of Thrones." Soon enough, Meyers and uncle were joined by one of the show's stars, Peter Dinklage, who also acted "drunk" and stumbled on about tax season.
"I wish IRS stood for Immigrant Return Service," Dinklage said.
This week's musical guest was Phoenix, who performed "Entertainment" and "Trying to be cool."