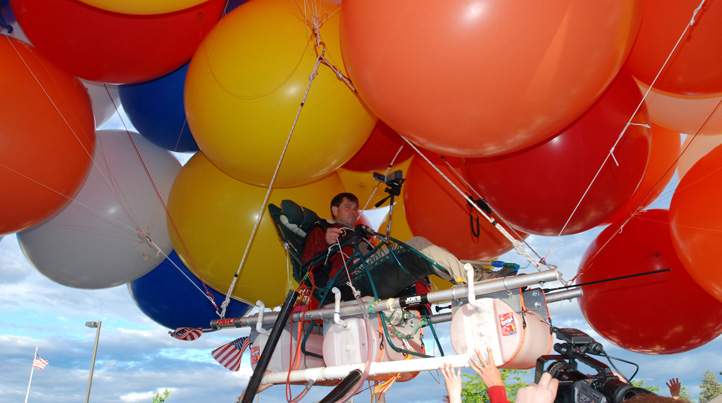 Four years ago, Kent Couch made headlines by floating through the clouds in a lawn chair hoisted by party balloons from Oregon to Idaho. He's going to fly again, this time with a buddy sitting on a second lawn chair at his side.
They are planning to take off July 14 from the parking lot of Couch's gas station and convenience store in Bend, Ore., the way he did in 2008 when he floated 235 miles to an Idaho farm field.
Iraqi adventurer and skydiver Fareed Lafta, who read about Couch's exploit, will be going along for the ride so he could add lawn-chair ballooning to his bucket list.
U.S. & World
Stories that affect your life across the U.S. and around the world.
"We can't hit above 18,000 feet (because of federal flight restrictions), but we can make a good run at, I imagine, 400 miles or plus" in distance, which should put them in southwestern Montana after an overnight flight, Couch said.
The flight will be a warm-up for another one planned for this fall in Iraq. The men had to scrub a tandem flight last year after Iraqi officials said they couldn't provide security for the liftoff from a Baghdad soccer stadium.
Couch has wanted to fly like a cloud all his life, trying bungee jumping, sky diving, and hang gliding — everything short of getting an actual pilot's license. Then he saw a TV show about the 1982 lawn chair flight over Los Angeles by truck driver Larry Walters, who gained urban myth immortality.
"It looked plenty easy," he said. "I saw this as the easiest way for me to fly."
His first time up was in 2006, when he got only 99 miles before the helium balloons started popping and he had to bail out. In 2007, he flew 193 miles before running low on helium and landing in the sagebrush near Union, Ore.
In 2008, things went much more smoothly. After lifting off at dawn July 5 with the help of scores of volunteers, he floated at 35 mph across the high desert, reaching his goal of crossing the Idaho border. That's when he pulled out his trusty Red Ryder BB rifle to shoot out enough balloons to come to earth just in a pasture outside the tiny farming community of Cambridge, Idaho.
Couch is waiting for his favorite anti-gravity style of lawn chairs to go on sale before putting his latest flying rig together with parts he buys at the local hardware store. The others were bought by a museum.
He will need more than 350 5-foot-diameter balloons filled with helium to lift the two of them, plus 800 pounds of Ballast — red Kool-Aid in 40-gallon barrels.
"If you look up in the sky and see a single cloud up there — if you can imagine floating on that cloud — that's it," Couch said of the thrill that draws him back to lawn-chair ballooning again and again. "I wish people could feel what I feel when I'm up there."

Copyright AP - Associated Press