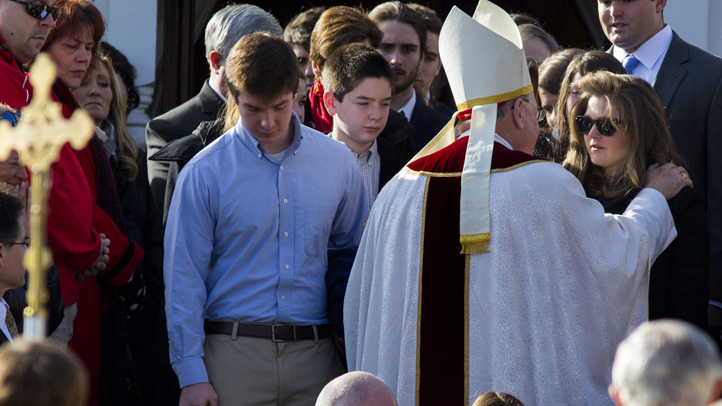 Five more children were being laid to rest Thursday, as well as a Sandy Hook Elementary teacher who was compared to Jesus for giving up her life to protect others.
Other victims of the Newtown school shootings were being remembered at wakes in what has become a grim routine in the aftermath of the Connecticut tragedy, and as churches across the nation prepared to mark the one-week anniversary of the massacre by ringing church bells 26 times at 9:30 a.m. Friday, NBC News reported.
After Connecticut Gov. Dannel Malloy called for a moment of silence earlier in the week, the National Council of Churches said many of its 100,000 congregations would participate in the bell-ringing.
U.S. & World
Stories that affect your life across the U.S. and around the world.
For full U.S. news coverage, visit NBCNews.com.
A single bell tolled Thursday at the Newtown funeral mass for 6-year-old Catherine Hubbard at St. Rose of Lima Church. Catherine's family said in her obituary that she would be remembered for her passion for animals and her constant smile.
She was among the 20 students and six teachers killed when Adam Lanza, armed with a military-style assault rifle, broke into Sandy Hook Elementary School in Newtown on Dec. 14 and opened fire. Lanza killed his mother at her home before the attack and committed suicide at the school as police closed in.
Remembering the Sandy Hook Victims: Portraits of the Fallen.
Funerals were also scheduled in Connecticut on Thursday for Benjamin Andrew Wheeler, a spirited and energetic 6-year-old boy who loved soccer and played the piano; 6-year-old Jesse Lewis, who enjoyed hot chocolate with his favorite sausage, egg and cheese breakfast sandwich; and Allison Wyatt, a 6-year-old girl who loved gardening and couldn't wait to spend time outdoors each summer. A memorial was held for teacher Lauren Gabrielle Rousseau.
In New York, Cardinal Timothy Dolan told mourners at the funeral of Anne Marie Murphy that the teacher "brought together a community, a nation, a world, now awed by her own life and death." Murphy's father, Hugh McGowan, said authorities told him that she died trying to protect her young pupils.
"Like Jesus, Annie laid down her life for her friends," Dolan said. "Like Jesus, Annie's life and death brings light, truth, goodness and love to a world often shrouded in darkness, evil, selfishness and death."
About 15 people arrived at St. Mary of the Assumption Church in Katonah, N.Y., in a yellow school bus with "Newtown" written on its side. The church quickly filled and about 100 mourners waited outside.
Murphy's brother-in-law Thomas Newman read a brief statement before the service.
Her relatives "pray, for all the families touched so terribly, that God may help these feelings of such great pain and grief pass quickly; that they be replaced with only happy thoughts and joyous memories of those we have lost," they said.
Trinity Episcopal church on Newtown's Main Street was filled to capacity for the funeral of Benjamin Wheeler, and scores of mourners who couldn't get in milled about outside on a chilly day. The service for a child described as a lighthouse buff, budding musician and Beatles fan included a rendition of "Here Comes The Sun" and the hymn "Amazing Grace."
Benjamin's five uncles acted as pallbearers. About two dozen Boy Scout leaders lined the front pathway to the church in honor of the former Cub Scout.
In downtown Danbury, mourners filed into the ornate white-pillared First Congregational Church for a memorial service for teacher Lauren Rousseau. The congregation in the packed church sang "Morning Has Broken" and "Let There Be Peace On Earth."
Friends wept on the altar as they remembered the spirited, hardworking, sunny-natured young woman who loved children and animals, especially cats, and who had always wanted to be a teacher. They spoke of how the 30-year-old brightened their lives with her silliness and gave them all nicknames.
U.S. Attorney General Eric Holder was heading to Newtown on Thursday to meet with local law enforcement and emergency responders, a Justice Department official confirmed to NBC News. He was not set to participate in any public events.
In addition to the services, the families of 6-year-old Olivia Rose Engel, behavioral therapist Rachel Marie D'Avino and school psychologist Mary Sherlach had calling hours Thursday.
At least nine funerals and wakes were held Wednesday, and more are set for Friday and Saturday.
"The first few days, all you heard were helicopters," said Dr. Joseph Young, an optometrist who attended one funeral and would go to several more. "Now at my office all I hear is the rumble of motorcycle escorts and funeral processions going back and forth throughout the day."
Copyright AP - Associated Press