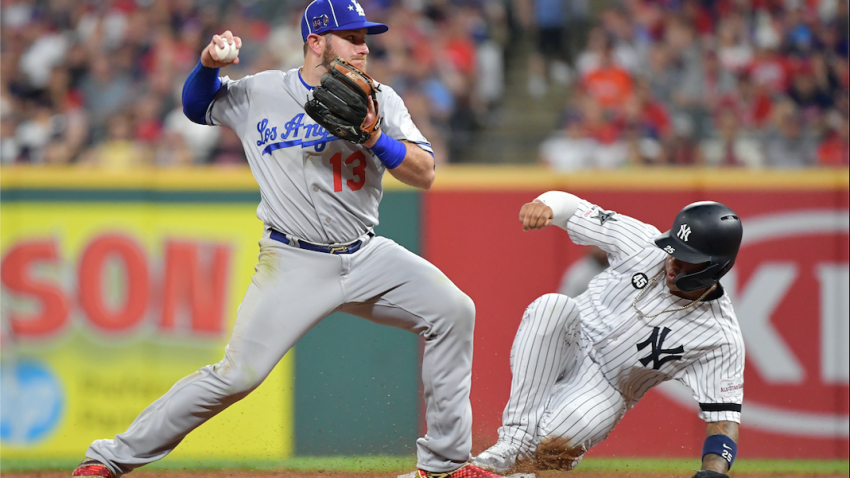 A massive explosion at a fertilizer plant ripped through a small Texas town Wednesday night, creating a powerful shockwave that flattened homes, smashed out windows and could be felt as far as 80 miles away.
The blast may have killed as many as 15 people and injured more than 160, officials said, though they are still in the search and rescue phase as of Thursday afternoon and could not confirm the death toll.
Louise Mills confirmed on Thursday that her brother, firefighter Morris Bridges, died in the explosion, as did Captain Kenny Harris, according to Dallas Fire-Rescue. The explosion also claimed the life of a third firefighter Brian Uptmor, according to his brother.
U.S. & World
Stories that affect your life across the U.S. and around the world.
Texas Gov. Rick Perry called the explosion "truly a nightmare scenario" and said at least 75 homes were damaged in the blast.
"This tragedy has most likely hit every family, has touched practically everyone in that town," Perry said during a Thursday morning news conference.
He emphasized that much of the information about victims remains "very preliminary." President Barack Obama offered in a phone call a quick turnaround of declaring McLennan County an emergency disaster that is eligible for federal aid, Perry said.
Lt. Gov. David Dewhurst said the explosion night knocked people "all over the town" back 10 feet, including some through windows.
"Just fire everywhere," said Sammy Chavez, who witnessed the explosion. "Bodies on the ground, bloody bodies, people in panic. Firemen, fire trucks, police cars filled the town."
Volunteer firemen from the West Fire Department initially responded to a fire at 7:30 p.m. at West Fertilizer Company. Six volunteer firemen responded to the fire, recognized the potential for an explosion and began evacuating nearby homes and businesses, Waco Police Department Sgt. William Patrick Swanton said.
At about 7:53 p.m., the explosion ripped through the plant. Five of the volunteer firemen were missing, Swanton said.
"We need your prayers," said Tommy Muska, West's mayor. "There's a lot of people that got hurt. There's a lot of people, I'm sure, will not be here tomorrow."
First responders worked through the night to evacuate residents and conduct door-to-door welfare checks on residents living in the blast area. Witnesses said several nearby buildings -- including a high school, a nursing home and an apartment building -- were severely damaged. The nursing home's 133 residents were safely evacuated, officials said.
Thursday morning, Swanton said a significant area near the facility had been flattened and that "part of that community is gone."
Through the night, firefighters struggled to contain the blaze because of toxic fumes. Officials worried that an unexploded tank that continued to vent gas could cause another explosion. But by Thursday morning, officials said that while the fire continued to smolder, they were no longer worried about another explosion.
Injured Transported to Hospitals in DFW, Waco, Temple
Late Wednesday, Texas state Trooper D.L. Wilson said that more than 100 people were injured. Thursday morning, that number has grown to nearly doubled with at least 167 people being treated at hospitals in Waco, Temple, Dallas and Fort Worth.
Hillcrest Baptist Medical Center in Waco treated more than 100 patients, the hospital said Thursday morning. More than 50 people were treated and released by emergency medical staff, but five were admitted to the Intensive Care Unit and another 28 were admitted. Two children were transported to McLane's Children's Hospital in Temple.
Officials with Hillcrest Baptist reported no fatalities and said five surgeries were performed on blast victims. Some patients, officials said, needed fertilizer decontamination, including irrigation of the eyes. The hospital, a Level 2 Trauma Center, said it was still on standby to receive more patients if needed.
Hillcrest Baptist Medical Center CEO Glenn Robinson told the Waco Tribune-Herald that many of the patients coming in "looked just like regular families -- a mom, dad, children coming in together."
Providence Hospital, also in Waco, received 65 patients.
Parkland Memorial Hospital in Dallas confirmed that it was treating two people injured in the West explosion. One arrived by helicopter, and other was transported by ambulance, the hospital said.
John Peter Smith Hospital in Fort Worth confirmed Wednesday night that one patient was sent their way.
Scott & White Memorial Hospital in Temple, a Level-1 Trauma Center, said it received three patients. Two other patients were taken to McLane Children's Hospital, also in Temple.
The extent of their injuries was not immediately available. Word on the patients' conditions was expected to be released after sunrise Thursday.
Powerful Blast Recorded by USGS as 2.1M Explosion
According to the U.S. Geological Survey, the explosion at the fertilizer plant registered as a 2.1-magnitude explosion.
The magnitude is "substantially less than the true size of the event" because the magnitude only measures the ground motion, not the air wave, the USGS said on its website.
Mayor Muska said he felt the explosion before he heard it and that it was so powerful that it blew his hat off his head and the mirror off his vehicle.
A resident who lives two blocks away from the plant told NBC 5 DFW that the impact felt like a plane had gone down near her.
West is about 70 miles south of the Dallas-Fort Worth area, but people as far north as south Arlington reported feeling the explosion. Numerous NBC 5 DFW iewers in places such as Cleburne, Waxahachie and Midlothian contacted NBC 5 DFW, saying they believed they felt an earthquake.
Muska said he did not know how many homes were affected by the blast's five-block radius. His own home's windows and doors were blown off, he said.
Wilson, the Texas state trooper, said 50 to 75 homes were damaged, in addition to 50 units at an apartment complex that were just "a skeleton." Chopper 5 could see that the entire second floor of a two-story apartment building had collapsed.
Swanton described the damage as "quite a bit of devastation" in the downtown area.
Copyright AP - Associated Press