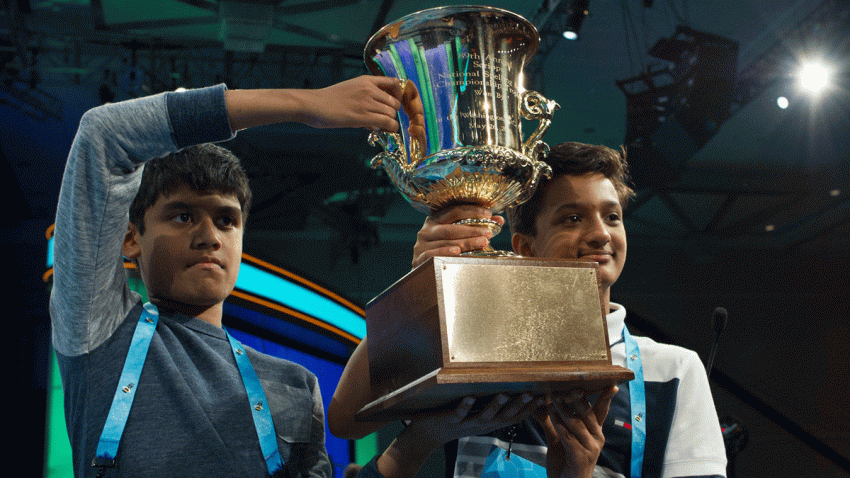 The words were tougher. The final rounds lasted longer. The result was the same.
The Scripps National Spelling Bee ended in a tie for the third consecutive year Thursday night, with Jairam Hathwar and Nihar Janga declared co-champions after a roller-coaster finish.
Thirteen-year-old Jairam is the younger brother of the 2014 co-champion, Sriram Hathwar. Nihar, at age 11, is the youngest winner of the bee on record.
U.S. & World
Stories that affect your life across the U.S. and around the world.
Scripps made the bee tougher after two consecutive ties, forcing the last two spellers to get through three times as many words as in years past.
Jairam misspelled two words, but both times, Nihar followed up with a miss and the bee continued.
Each will receive a trophy and $45,000 in cash and prizes.
The finals of the Scripps National Spelling Bee were already off to an agonizing start Thursday, with 20 out of 40 spellers hearing the dreaded bell before Tejas Muthusamy stepped to the microphone. But he was supposed to be OK. The 13-year-old from Glen Allen, Virginia, made the top 10 the past two years.
His word was "salele," a Samoan-derived word for a small, dusky silver fish. He asked all the questions he could. It was time to spell. But he still didn't know.
"Could you repeat the word five times?" Tejas asked pronouncer Jacques Bailly.
He asked to hear the definition again. He sighed, smoothed his shirt and looked at the floor. He pretended to write the word on his hand. The onstage lights turned red, signaling that he had 30 seconds left.
He missed it by one letter, going with "solele." He left the stage to a standing ovation.
The bee staff promised that this year would be tougher than ever. A second written spelling and vocabulary test, widely loathed by spellers, was eliminated. But the bee still needed to cut the field from 45 to 10 before the primetime finale, which is broadcast on ESPN.
As a result, spellers were hit with words that were harder to figure out. They got biological terms and words derived from obscure languages. With "salele," Tejas had no roots, alternate pronunciations or other tricks of the champion speller's trade to fall back on. He was one of 24 spellers who missed their first word.
Mitchell Robson, who made the top 10, is friends with Tejas and was shocked by his exit.
"I can't even remember the last time he misspelled a word online," said Mitchell, 14, of Marblehead, Massachusetts. "I think the pressure got to him. I don't think this was his swan song."
Tejas is in 7th grade, so he's eligible to return next year.
Two others who made last year's top 10 managed to repeat this year, but it wasn't easy. Sylvie Lamontagne of Lakewood, Colorado, fidgeted throughout her first word, flexing her knees and shaking her legs. She buried her face in her hands before spelling "sylvilagus," a cottontail rabbit.
"I don't like sitting still anyway, but when I get nervous, that, like, triples," said Sylvie, 13.
Thirteen-year-old Snehaa Kumar of Folsom, California, who finished tied for fourth last year, also had some unsteady moments, her voice breaking in front of the microphone. But she made it through.
Last year, Vanya Shivashankar became the first sibling of a past champion to win.
"It's difficult to make it to this level," Jairam said.
Other finalists include two 11-year-olds: Nihar Janga of Houston, who got the only perfect score on the written test, and Jashun Paluru of West Lafayette, Indiana.
Three international spellers were among the 45 finalists, but none made the top 10. Afua Ansah of Ghana was eliminated when she misspelled "Liechtenstein," a European principality.
For the remaining competitors, there won't be any letup to the difficulty. After the bee ended in a tie the last two years, Scripps decided that the final three spellers would have to spell up to 75 words, instead of 25, and the championship words weren't chosen in advance. That way, bee judges can use words that are as tough as necessary.
Dev Jaiswal, who made the top 10 last year and is back as a spectator, had a glassy-eyed look on his face as he tried to sum up what his friends had been through.
"That was brutal," he said. "There were several I didn't know."
Copyright AP - Associated Press