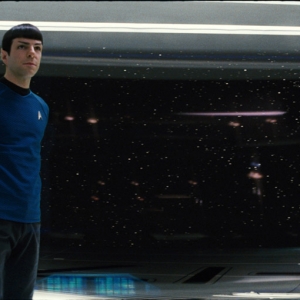 "Star Trek" really is going to the final frontier.
NASA astronaut Michael Barratt will watch the film while aboard the International Space Station, 220 miles above Earth, NASA said in a statement to Access Hollywood.
VIEW THE PHOTOS: 'Star Trek' Hollywood Premiere
U.S. & World
Stories that affect your life across the U.S. and around the world.
Paramount Pictures gave the film to NASA's Mission Control in Houston, Texas, which uploaded it to the space station last week.
"I remember watching the original 'Star Trek' series and, like many of my NASA coworkers, was inspired by the idea of people from all nations coming together to explore space," Barratt said in a statement to Access. "'Star Trek' blended adventure, discovery, intelligence and storytelling that assumes a positive future for humanity. The International Space Station is a real step in that direction, with many nations sharing in an adventure the world can be proud of."
VIEW THE PHOTOS: Scenes From 'Star Trek'
It won't be the "Trek" franchise's first appearance about the station. Former station astronaut Greg Charmitoff and his crewmates made viewings of the original series a weekly standby.
And NASA astronauts aren't the only fans of the new film, which has earned high marks from audiences and critics alike – even President Barack Obama praised it in a recent interview.
"'Star Trek,' we saw this weekend, which I thought was good," he told Newsweek, raising his hand in a Vulcan salute. "Everybody was saying I was Spock, so I figured I should check it out."
Related Content from AccessHollywood.com:
VIEW THE PHOTOS: Barack Obama
PLAY IT NOW: Chris Pine Talks 'Star Trek' On 'The Billy Bush Show'
PLAY IT NOW: 'Star Trek' LA Premiere, Part I

MORE ACCESS ON THESE TOPICS: Star Trek - Movies - Geek Chic - Celebrities

Copyright NBCAH - Access Hollywood