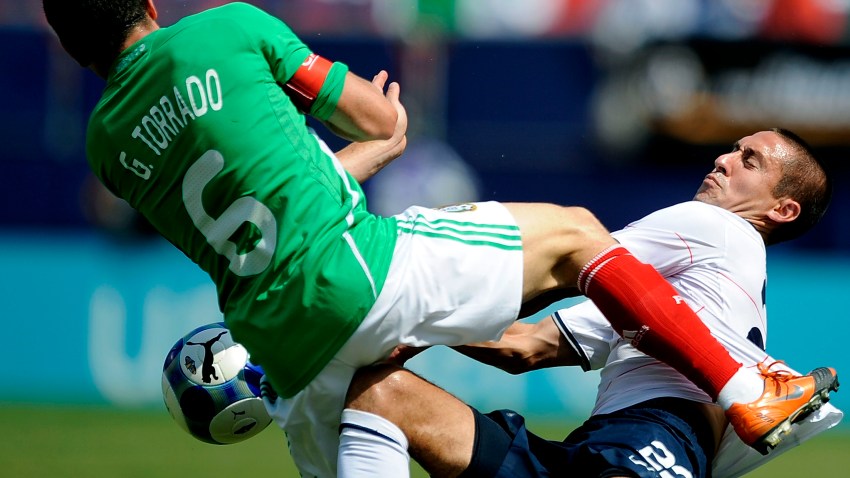 Pictures contrasting the life before and after a 5-year-old was violently raped brought the girl's mother, along with two jurors and some observers, to tears in court Wednesday, as she testified about the day her daughter was abducted from school and raped repeatedly.
The 40-year-old woman dabbed her tears as prosecutors showed pictures she had taken of her daughter in the emergency room after the attack. The girl's disheveled hair and despondent, blank eyes stood in stark contrast to photos of her before the attack, showing a bright kid with glasses, wearing a peace shirt and a big smile.
On the stand, the victim's mother cried as she described the shock and panic she felt on the day her daughter went missing from Bryant Elementary School in the Cobbs Creek neighborhood of Philadelphia on Jan. 14, 2013.
U.S. & World
Stories that affect your life across the U.S. and around the world.
That winter morning was routine. She recalled fixing her daughter's headband in the car before she sent her into school and then headed off to work.
It was six hours, the girl's mother testified, before she learned that her daughter had left school with a stranger.
Prosecutors say that stranger was Christina Regusters, who knew the victim from an after-school program and took her from her classroom that day, snuck her home in a laundry bag, sodomized her and abandoned her in a park the next morning.
When the mother saw her daughter in the hospital bed, she said she wanted to take her home. "I want to hug her," she told jurors, but when she leaned forward for an embrace, her daughter pulled back and said she was hurting.
Her daughter's life changed in an instant, the mother told jurors. Two members of the panel needed tissues as a photo of a smiling, toothless victim was shown, and then the post-attack photos from the hospital.
The victim, who was in kindergarten at the time, appeared drugged when she was found, her mother testified, glaring at Regusters.
Wednesday was the second day of testimony that pictures have provoked emotional reactions in the trial. On Tuesday, the judge ordered observers out of the room when the prosecution showed photographs of the physical damage the victim suffered. She has required several reconstructive surgeries.
Regusters worked at the school's daycare, and the victim's mother recalled speaking to her on a couple of occasions about her youngest child, a baby, who had trouble sleeping. She explained to Regusters that he needed to be comforted -- held close and given a sippy cup to help him get to sleep. About a week later, she said Regusters had stopped her in the hallway and told her the advice worked.
The victim, who is now 7, is expected to testify today. The defense argues that police have the wrong suspect.
Copyright AP - Associated Press