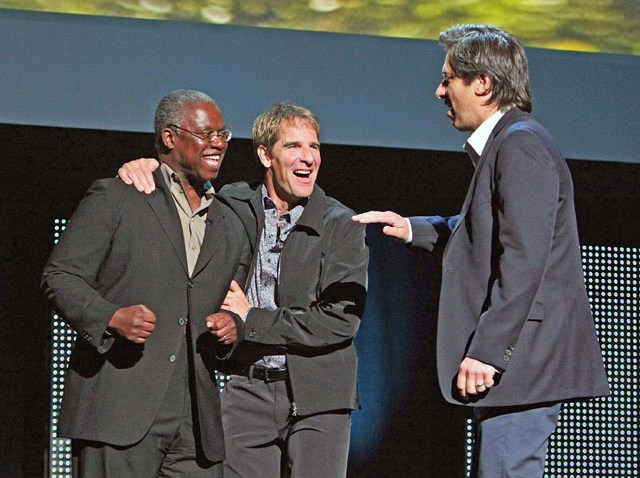 Welcome to Watch List, where we identify five things on TV to watch while you stay at home and shake your fist at NBC for pushing next season of "Parks And Recreation" to 2011. GAH! Don't do it! Why must everything I love go away in the end? LET'S GO!

HOUSE – 8:00PM (FOX) It's your season finale tonight. And the team is on location! In Hawaii! No, just kidding. Not Hawaii. No, they're at the scene of a building collapse, which almost certainly will serve as a metaphor for House's rapidly deteriorating grip on his sobriety and peace of mind. His cane is not unlike a load-bearing pillar that has snapped! Also, I hope he and Cuddy do it. ANTICIPATION: NO KARAOKE!

24 – 9:00PM (FOX) Only three hours left! Gahhhh! My guide says that tonight, Jack is seeking retribution. Well really, when is this man NOT seeking retribution? He's a retribution dispensary. He never needs to pee, but he always needs retribution. He RUNS on vengeance. Anyway, get your 24 fix in. Pretty soon, you'll have to go without spending you Monday nights seeing another man shooting people, snapping their fingers into pieces, and clawing out their eyes with a rake. You will MISS this. ANTICIPATION: TORCHAHHHHHHH!

CHUCK – 8:00PM (NBC) Behold the power… OF BAKULA! Yes, the venerable TV actor (and a man whose last name always makes me think of a back that has fangs growing out of it) returns tonight as Chuck's Dad. Pity Dean Stockwell isn't joining him… FROM THE FUTURE. Also, Chuck was picked up for a fourth season. Which means more Chuck for those of us that watch Chuck, and more promos with Yvonne for those of us that don't. Everyone wins. ANTICIPATION: BAKULA!

HOW I MET YOUR MOTHER – 8:00PM (CBS) Last week, Barney wooed Arianna Huffington, no doubt by deploying some sort of liberal headline in 78-point type. This week, he continues his tour of "journalist ladies who look kinda hot from a suitable distance" when he beds Maureen Dowd. Just kidding. ANTICIPATION: SEXY!

DANCING WITH THE STARS – 8:00PM (ABC) You get Miley Cyrus dancing tomorrow night. Don't tell your creepy uncle. ANTICIPATION: GO OCHO!