A South Jersey woman's former lover confessed to killing her and her infant daughter inside her apartment then using her sport utility vehicle to dump their bodies, investigators said Wednesday.
Police in Vineland, New Jersey, announced two homicide charges against Ricardo Santiago, 34, of Millville. Police said Santiago is the father of Neidy Ramirez's 5-year-old child.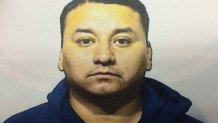 Vineland police Lt. Matt Finley said the bodies of 34-year-old Ramirez and her 3-month-old daughter Genesis were found in western Cumberland County, New Jersey. A source and criminal complaint said the bodies were discovered in a swampy area near the Cohansey River Watershed Boat Ramp in Fairfield Township. Their bodies were placed in the area at some point between Friday and Saturday, according to the source.
Ramirez's grieving family called her a "loving mother who adored her kids."
"They were her life and would do anything for them," said the family statement. "She was someone who you could talk to for anything -- and count on. She always liked to laugh and make jokes with family and friends. She will always be loved and be in our heart's."
U.S. & World
Stories that affect your life across the U.S. and around the world.
Ramirez and Genesis had been missing since Black Friday, when family members last saw them in Vineland, police said. Their final hours spent at a local laundromat, said police.
A day later, New Jersey State Police found Ramirez's 2005 Chevy Trailblazer along Route 55 after a family friend spotted it near milepost 45.3, said investigators. Santiago used that same SUV to dump the bodies, according to a criminal complaint.
[NATL] Top News Photos: Pope Visits Japan, and More
Investigators said Ramirez was reported missing after she failed to show up for work Monday.
Santiago was held on $1 million bail. Police said he was taken into custody and questioned Tuesday -- eventually coming clean and leading police to the bodies.
He was charged Tuesday night. Information on an attorney for Santiago was not immediately available.
Finley said Ramirez and Santiago were co-parents, but did not live together. The two were involved in a dispute, Finley said, but he did not elaborate on details.
Santiago had previously been arrested for making teroristic threats earlier this year.
Finley said the biological father of Genesis has been notified of the girl's death.
A vigil was held Wednesday at 6:30 p.m. on the 200 block of W. Chestnut Avenue in Vineland. Conte's Pasta, where Ramirez worked, is collecting donations for the family. They are also working on setting up a fund.