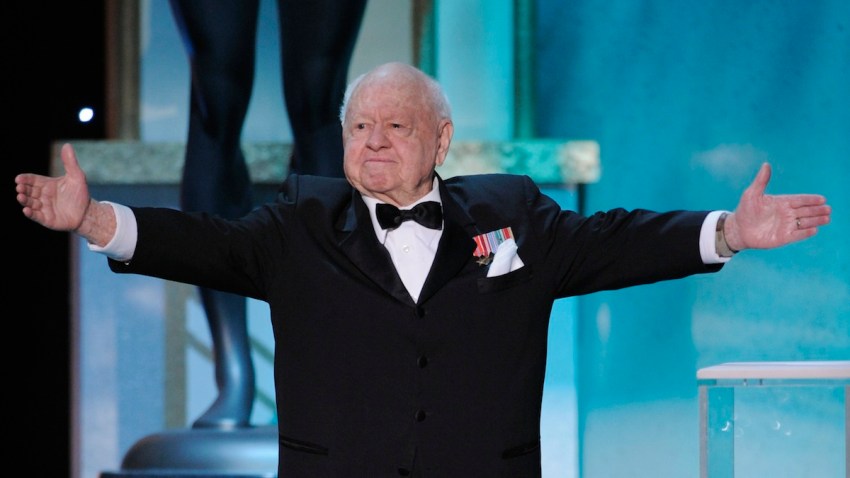 Toward the end of the buoyant opening number of 2011's "The Muppets," Mickey Rooney pops into frame, an old-school newsboy cap turned backward atop his head and a time-erasing grin plastered across his craggy 90-year-old face. He responds to the residents of Smalltown's chorus of "Life's a happy song…" with a voice brimming with energy and impishness: "…when there's someone beside you to sing!"
The cameo, like all great things Muppet, played on two levels: entertaining youngsters while serving for the rest of us as a touching tribute to a performer who made us believe that in the movies big things – even elaborate, impromptu musical numbers – can sprout in places like Smalltown.
Rooney, who died Sunday at age 93, leaves the stage as a star whose huge impact and talent belied the diminutive stature than made him an icon of the power of pluck. During a nine-decade career that spanned the era of modern celebrity, Mickey Rooney, an American original, became a Hollywood archetype, on and off the screen.
U.S. & World
Stories that affect your life across the U.S. and around the world.
He likely was barely recognizable to younger generations, who might have known him best as Gus, the security guard with an insider's knowledge of after-hours magic, in 2006's "Night at the Museum." But the "Let's-put-on-a-show!" genre he helped create with Judy Garland in the Depression-era "Andy Hardy" movie series packed a lasting influence that stretches from Kermit and friends to the gang from "Glee."
Rooney, whose career began in Vaudeville when he was a toddler, also served as an early poster boy for former child stars run amok, a trope that plays out seemingly endlessly these days. He plunged into marriages – eight of them, including an explosive coupling with sultry Ava Gardner when barley out of his teens. He abused booze and pills. He faced financial ruin. He went from the top box office draw in the country to a supporting player, at best, in fare like "It's a Mad, Mad, Mad, Mad World" and "How to Stuff a Wild Bikini."
But Rooney, in keeping with his early movie persona, proved a comeback kid, even when he wasn't a kid anymore. He was approaching 60 when he hammed it up in the hit Broadway music and comedy review "Sugar Babies," and showed brilliant subtly in portraying an aging developmentally disabled man in the landmark TV movie "Bill."
Some of his early successes seem hokey by today's standards – some might have seen them as hokey even back in the day. But Rooney, who possessed a rare, indefinable screen spirit that connected with audiences, often transcended his material. As Andy Hardy, the small-town boy with big ideas, he helped inspire the country during some of its toughest days.
Rooney also stood out, even amid some major costars, in higher quality films. In "Boys Town," he projected a mix of toughness and sensitivity while playing a young hood to Spencer Tracy's tough-love priest. Rooney memorably gave us another character worthy of redemption – a star-crossed jockey – in 1944's "National Velvet," sharing the billing with 12-year-old Elizabeth Taylor, whose life on and off screen, echoed his in some respects.
News of Rooney's death spurred remembrances from all over, but his greatest epithet may have already come in the Kinks' "Celluloid Heroes," a bittersweet 1972 ode to the legends celebrated in the ceremonial stars embedded in the sidewalk along Hollywood Boulevard. "And if you stamped on Mickey Rooney," Ray Davies sings, "he would still turn round and smile.
Mickey Rooney, from the Andy Hardy flicks to "The Muppets," knew the power of that smile, and, at his best, knew how to transfer the joy of a happy song from his face to ours.
Jere Hester is founding director of the award-winning, multi-media NYCity News Service at the City University of New York Graduate School of Journalism. He is also the author of "Raising a Beatle Baby: How John, Paul, George and Ringo Helped us Come Together as a Family." Follow him on Twitter.
Copyright FREEL - NBC Local Media