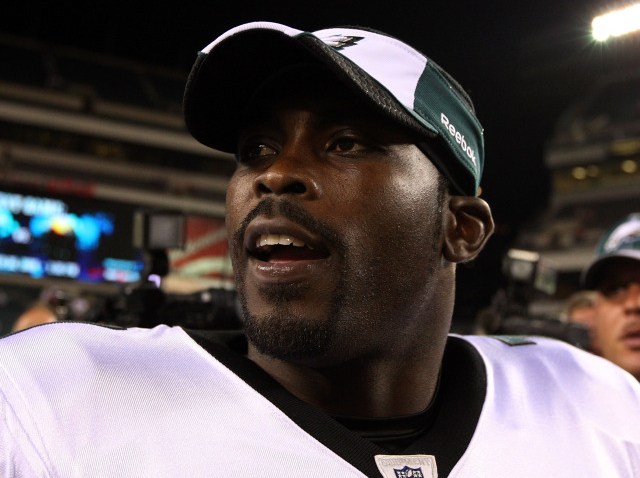 When you're a fairly controversial professional athlete recently returned to the field of play, a visit to play a team in New York, with it's 50 billion media members, can't be a very pleasant prospect. Unless you have the superb sense of timing of Eagles quarterback Michael Vick. Through a somewhat unlikely confluence of events, Vick is unlikely to draw more reaction than a visit from a backup quarterback who didn't just serve two years in prison for killing dogs.
More than any other reason, the fact that Vick has already played his first game means that it's not a particularly juicy story. New York may be a bigger market than Philadelphia, but first is first and second is a million news cycles later with nothing outside of football noodling about Vick's role on the team and whether Donovan McNabb can still smile. Interesting for the local audience, perhaps, but it's got no legs once you cross the Walt Whitman Bridge.
It's the fourth preseason game, which means the majority of playing time will be going to players who will either be strapped to the bench or unemployed when the games start counting. To make it to the second half of such a game, you'd have to be intensely interested in the fight for the Jets' third-string inside linebacker poisition. Needless to say, there aren't very many of those people kicking around, and most football fans are just desperate for this game to end because it means the next one actually counts.
U.S. & World
Stories that affect your life across the U.S. and around the world.
The rabid anti-Vick crowd couldn't muster a strong response for his first game in Philadelphia last week, which makes it hard to think there will be much in the way of protests at the Meadowlands on Thursday night. After all, if you weren't incensed enough by Vick's behavior to make a two hour trip down to Philly, you'll probably find you're not incensed enough by his behavior to battle rush hour traffic on the Thursday before Labor Day weekend.
Which segues nicely into the final reason why Vick's timing couldn't be better. It's Thursday night on a holiday weekend which means people are literally on vacation, figuratively on vacation until they're freed from their jobs and/or enjoying the last hours of summer. Meaningless football games, even ones featuring Michael Vick, don't have a ton of currency when faced with that kind of competition.
So Vick will slip into the stadium, play some quarterback and provide a neat little test for Jet defenders battling for spots as backups or on the practice squad. And then he'll slip out again, moving forward toward reinstatement and resumption of his football career without breaking too much of a sweat.
Copyright FREEL - NBC Local Media