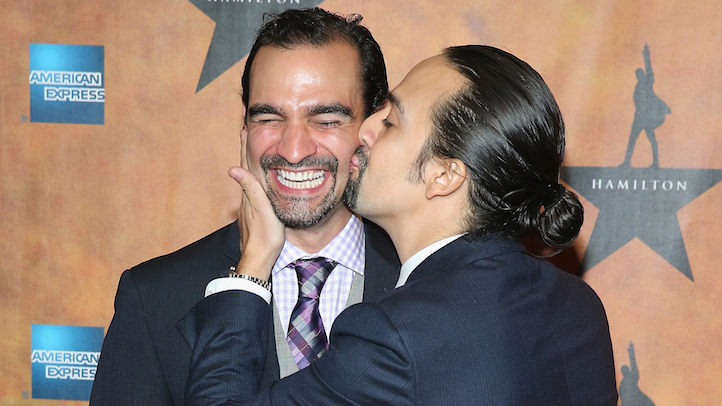 Javier Muñoz has been understudying the role of Alexander Hamilton since the show premiered off-Broadway at the Public Theater back in February 2015, alternating performances on Broadway at least once a week.
But on July 11, he'll take over the role full time, after creator and star Lin-Manuel Miranda's final performance in the Tony-winning production on July 9.
The 40-year-old actor has long worked with Miranda, understudying his role in 2008's "In the Heights" and eventually taking over the part when Miranda left that show as well.
U.S. & World
Stories that affect your life across the U.S. and around the world.
"I probably wouldn't be in this business still without Lin-Manuel Miranda," Muñoz said. "He created the opportunities for me as a Latino actor to have the career that I have. They didn't exist without him and before him. It's a bonding glue to always lift him up and embrace each other and support each other in that process."
In a meeting with press Thursday, as reported by Playbill, Miranda praised Muñoz's performance as Hamilton, saying, "When Javi does the show, you really see the show in all of its colors."
"I can't overstress it — we created the role together," Miranda continued. "In the rehearsal room, as I was writing, he would tag in, I would tag in. We would do every scene with me in the role and him in the role, and that's how we kicked the tires on 'Hamilton.' It really took two people to make it work."
Muñoz's first performance in "Hamilton" was a memorable one — performing for President Barack Obama when he came to see the show on Broadway during its sixth preview.
"I'll never forget [that] moment," Muñoz told Variety. "He came to talk to us at intermission... he turned right to me, shook my hand, looked me square in the eye, and said, 'You are wonderful.' And then kept going. I didn't really move. When the president of the United States takes a moment to say anything to you? That was extraordinary. Act II was even better than Act I."
The "Hamilton" promotion for Muñoz comes after the actor's secret battle with cancer, which kept him out of the production for several weeks last fall. He was diagnosed in October 2015 and underwent surgery and radiation treatments in November, taking a two-month absence from the show before returning to the production in January.
"It's a rare thing in my life to find myself face to face with something I'm scared of, and I was scared of this," Muñoz told People. "I had never been more scared in my life.
Muñoz hasn't publicly said what type of cancer he had.
He will perform the role of Hamilton seven performances a week, taking off one performance per week, as Miranda had done. Muñoz's alternate will be announced at a later date, along with the alternate's performance schedule.