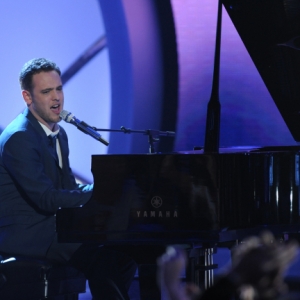 The playing field on "American Idol" got a little bit bigger on Tuesday night when a handful of contenders stepped up to challenge frontrunners Danny Gokey and Adam Lambert.
Kris Allen, with his square jaw, long eye lashes and friendly smile, made a deep impression when he covered "To Make You Feel My Love" by Garth Brooks, with country being the theme of the evening.
VIEW THE PHOTOS: 'American Idol' Season 8 Top 13
U.S. & World
Stories that affect your life across the U.S. and around the world.
"I thought that was terrific," a warm Simon Cowell raved. "Really, really good… I genuinely am beginning to think you've got a shot of doing well in this competition."
Anoop Desai, who nearly ended up eliminated last week after covering Michael Jackson's "Beat It," again selected a very popular song, but managed to make it his own.
VIEW THE PHOTOS: 'American Idol' Top 36 Semi-Finalists
"Anoop is back!" Paula Abdul said after he took on the Willie Nelson classic, "You Were Always On My Mind." "Last week the glove didn't fit you, but this week it really did."
And Simon was won over too.
"Anoop, you've managed to go from zero to hero. That was a good choice of song," the Brit said. "In a way, that was one of my favorite performances of the night."
VIEW THE PHOTOS: Anything But Dreadful! Hot Shots Of Simon Cowell!
Also scoring props from the judges was Matt Giraud, who took on Carrie Underwood's "So Small."
"I don't think you have [been] given enough credit for your vocals in this competition so far," Simon stated. "I think your vocals are quite similar to Danny's and I think tonight you out sang him. You remind me of Michael Buble. That was a terrific performance. One of the best tonight."
As for Danny though, he drew mixed reviews singing another Carrie Underwood song, "Jesus Take The Wheel."
While Kara thought the song started out rough, Paula thought it was worth buying.
"I think you were brilliant, so much so that I think Carrie Underwood would not only approve, she'd go out and buy that record," Paula said.
And Adam Lambert also received divided comments after he took the Johnny Cash classic, "Ring of Fire," and spiced it up with a Middle Eastern flair.
"You are really someone who stands out, who is true to who you are as an artist," Paula said. "You're raising your own bar each week and we're going to keep expecting more great things from you."
But Simon totally disagreed.
"What the hell was that!" he stated. "Sorry, but I would never go to Nashville if I were you. I think there are a lot of people throwing their televisions out at this point. I thought it was absolute indulgent rubbish. Really, really horrific."
Related Content from AccessHollywood.com:
PLAY IT NOW: Dish Of Salt: Jorge Nunez & Jasmine Murray Talk 'Idol' Departure
PLAY IT NOW: 'Idol' Feud: Paula Abdul Sets The Record Straight (March 6, 2009)

MORE ACCESS ON THESE TOPICS: American Idol - Reality TV - TV - Music

Copyright NBCAH - Access Hollywood