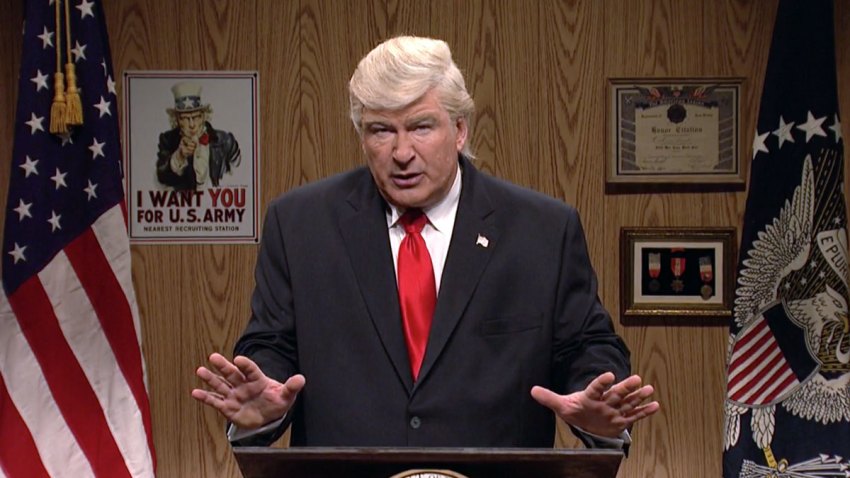 After the failure of proposed GOP health care legislation and with rumors of discord among his ranks, Alec Baldwin's President Donald Trump sought out an ego boost from his loyal supporters in Kentucky coal country this week on "Saturday Night Live." Returning from a hiatus, the show had plenty of material to spoof, thanks largely to a busy few weeks in Washington (and Mar-a-Lago.)
Unfortunately for Baldwin's Trump, though, his supporters didn't seem quite as confident with their chosen leader as they once did. While the president touted the airstrikes he recently ordered against the Syrian government, the Americans who voted for him seemed more concerned with the coal-mining jobs he'd promised, which haven't yet materialized, and with the health care reforms he'd promised, which also haven't materialized. Baldwin's Trump responded to their concerns by deflecting blame onto Paul Ryan, Susan Rice and seemingly whomever else he could think of, so his supporters put on brave, hopeful faces — because, as they said, he is their president, and it's too late for them to do anything about that now.
Grateful for their continued support, Baldwin's Trump astutely compared his faithful followers to people who find "a finger in [their] chili," but eats the chili anyway, because they'd talked so much about how they loved chili — and it is their chili, and it's too late for them to do anything about that now.
U.S. & World
Stories that affect your life across the U.S. and around the world.
Comic Louis CK, the night's host, spent his monologue explaining how he takes advantage of his wealthy-white-male privilege and exploring some mysteries of the animal kingdom.
And in an absurd sketch that seems like it was based on the premise, "Wouldn't it be weird if Louis CK wore false eyelashes?," a prosecutor wields the power of his charm to turn an entire courtroom to his favor.
CK also starred at the center of an ode to a previously unsung modern-day hero: the social media activist. In "Thank You, Scott," cast members Cecily Strong, Kenan Thompson and Sasheer Zamata sang of how grateful they are for "Scott" fixing "everything" by posting "Black Lives Matter" on his Twitter bio (for example) from the comfort of his sofa. "Scott" missed the irony, and as a result, he got a little unearned ego boost as well.
Baldwin stepped into a new role on SNL Saturday: Bill O'Reilly, host of the O'Reilly Factor, who in real life saw dozens of advertisers drop off his Fox News show in the past week after word got around that the he and the network had paid $13 million to cover settlements in five cases of women alleging sexual harassment or mistreatment from the host.
Despite the breadth of media coverage on those lawsuits, President Trump decided apparently of his own accord to come to O'Reilly's defense on Twitter. And despite that character defense from the country's highest office, advertisers from carmaker BMW to pharmaceutical giant GlaxoSmithKline to pest control company Orkin quickly pulled their spots from the program. Which is why the "O'Reilly Factor" — the SNL version at least — is now brought to "us" by "horse aphrodesiacs" and "Dog Cocaine."
And there was nothing left to parody of that Kendall Jenner Pepsi ad everyone hated, so SNL's approach was to go behind-the-scenes and introduce us to the (fictional) well-meaning, tone-deaf dude (Beck Bennett) who came up with the idea, but realized too late how it'd be received. In the end, the only winner here was the oblivious Jenner (Cecily Strong), who just showed up and got paid.
"Weekend Update" also commented on the O'Reilly scandal and the Pepsi ad, as well as Neil Gorsuch's Supreme Court confirmation, Stephen Bannon getting dropped from the National Security Council and that widely mocked photo of presidential adviser and son-in-law Jared Kushner visiting troops in Iraq. While visiting troops on his trip, Kushner was photographed wearing a preppy blazer, khakis and fashion sunglasses, with an incongruous-looking body armor vest — with a partially-obscured makeshift nametag that ended up reading just "KUSH" — thrown on top. Critics and commentators on social media quickly seized on the image as an indication of the top Trump aide being out-of-touch.
Musical guests The Chainsmokers played two songs: "Paris" and "Break Up Every Night."
Next week, SNL returns with host Jimmy Fallon and musical guest Harry Styles.