What to Know
A gunman took two hostages after bursting into the UPS sorting facility in Logan Township, New Jersey, Monday.
One worker said the gunman pistol-whipped a security guard then fired three shots into the ceiling.
After about three hours, the incident ended with the gunman being shot and killed by police. The hostages were safe.
A gunman burst into a UPS mail-sorting facility in New Jersey Monday, shot into the air and took two women hostage for more than three hours before he was shot and killed by police, investigators said.
The man, identified as William Owens, 39, of Sicklerville, New Jersey, was pronounced dead at the scene.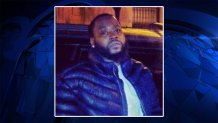 Police officers swarmed the UPS Mail Innovations warehouse on Birch Creek Road in Logan Township around 8:30 a.m., after receiving a report of a gunman inside.
Dan Severa, a housekeeping staffer at the building, told NBC10 he was outside the facility when he saw a frantic woman screaming that a man was inside, waving a gun around. He then heard a gunshot and ran inside toward the danger.
"I seen all the women in the office. Told them to stay in there and close the door," Severa said.
Severa told NBC10 he urged a group of about 10 women to run out of the building.
"I could get shot. Oh well," Severa said. "But my first reaction was to get them help."
One worker said the gunman pistol-whipped a security guard then fired three shots into the ceiling.
Severa told NBC10 he spotted the security guard.
"When I got him in the office, he had blood coming from his mouth," Severa said. "Think his nose was broke."
Ashraf Hajomar, a truck driver who was making a delivery to the facility at the time of the incident, told NBC10 he saw the suspect attack one of the women.
@NBCPhiladelphia active shooter at UPS mail facility in Swedesboro, New Jersey confirmed. https://t.co/2UuYvnhPxs

— Lucy Bustamante - News Anchor/Journalist (@LBustamanteNBC) January 14, 2019
"He grabbed his girlfriend, started punching her," Hajomar said. "He said, 'I have nothing to lose.' And he pulled a gun and shot in the air."
Severa said he also spotted the suspect with the hostage.
"All I heard him say was, 'I'm not going to jail.' And something about, 'I'll kill you.' And that's pretty much when it was my turn to get out of the building," Severa said. "I just walked right out the front door I came in and told the cops exactly where he was standing."
Severa, a former firefighter, said he helped keep some of the evacuees warm inside his van.
"Turn the heat up real high and got as many in as I could," he said.
Responding police officers blocked roads and sent nearby businesses and schools into lockdown as the standoff dragged on.
Gail Wright told NBC10 her sister received a call stating her son, William Owens, was the suspected gunman.
U.S. & World
Stories that affect your life across the U.S. and around the world.
"I started crying," Wright said. "And I started praying. Praying to God that everybody come through this okay."
One of the hostages was Owens' ex-girlfriend, a law enforcement source told NBC New York investigative reporter Jonathan Dienst. Gloucester County Prosecutor Charles Fiore would only say that Owens and at least one of the women had some sort of relationship.
No one was struck in the initial shooting, Fiore said. It was not known if the security guard whom the worker said was pistol-whipped was seriously hurt.
Shortly before noon, a burst of gunshots could be heard coming from the warehouse. NBC10 cameras were rolling as shots were fired more than half a mile away from an area where media members were being kept.
"The matter has been resolved," Fiore said shortly after the shots were heard.
Officials later confirmed multiple members of law enforcement shot and killed Owens. They have not yet confirmed whether or not Owens fired at police.
"I'm not certain whether he did or not," Fiore said. "There are no injuries from a law enforcement standpoint."
The Attorney General's Office is investigating the incident. None of the hostages were seriously hurt.
Owens' mother told NBC10 she was, "angry, frustrated and trying to make sense of what happened." Other family members said mental health issues may have played a role.
"Right now, I just know he's not in a good state of mind," Owens' niece, who did not want to be identified, told NBC10. "This isn't my uncle. He was never like this."
Officials say they will continue to speak to Owens' family members as the investigation continues.
"It's hurtful. It's hard," Paris Thomas, Owens' current girlfriend, said. "This is all surprising to me. I didn't even know this was going to happen."
Stephanie Keith, the mother of Owens' two daughters, told NBC10 she had been on the phone with him at least twice a week for several months and had sensed he wasn't mentally right. She said Owens had worked at the facility and was crying out for help.
"He didn't go there to hurt, you know, to literally hurt anybody," she said. "He went there for someone to hurt him. And for it all to be done and maybe he just wanted her to be a witness of what was going on."
Owens had been in and out of jail and juvenile centers for years, according to Keith. She said he was wearing an ankle bracelet due to charges stemming from the ex-girlfriend he took hostage.
Keith also claimed Owens was trying to make peace with people over the past few weeks, including his daughters.
"There's so many people that cared about him," Keith said. "I can't believe they allowed him to slip through the cracks. I just want everybody to know that he's not this monster."
The supply chain processing facility had about 60 employees inside at the time.
Police used yellow school buses to transport about 32 workers from the facility to a nearby Holiday Inn, county dispatchers said. The American Red Cross offered assistance to the workers at the hotel.
The UPS facility is surrounded by other facilities including Home Depot, Amazon and CEVA Logistics warehouses. Workers at some of those facilities said they were told by police to go into lockdown.
Logan Township School District schools went on a "modified lockdown," which means all exterior doors and classroom doors were locked, but teachers continued to hold class. The lockdown was lifted after the standoff ended.
Many law enforcement agencies joined Logan Township police at the scene. The FBI confirmed that it was assisting local police.
UPS said it was assisting local law enforcement with the incident and called it an "active shooter situation" as it unfolded Monday morning.
UPS thanked law enforcement in a brief statement following the incident. The company said that support services would be available, "for employees who work at the site... as they recover from this unfortunate incident."
The shipping giant uses its regional mail innovations facilities, like the one in Logan Township, to sort and verify mail before it reaches its destination, the company says on its website.
The facility remained closed Tuesday. Drivers should avoid the area. Birch Creek Road was blocked and Center Square Road was closed between Interstate 295 and Route 130.
Copyright AP - Associated Press