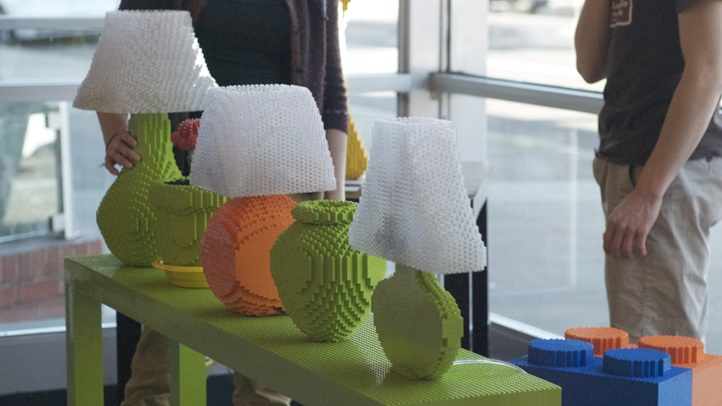 We're now well past the time when we believe only small tots play with LEGO bricks. The creative force behind the recent "The LEGO Movie," a hit through and through, was not a gaggle of 6 year olds (at least we don't think, though maybe in happy spirit).
The wee plastic bricks, it turns out, are the stuff of adulthood. And the iconic rectangles don't merely serve as material that allows grown-ups to recreate the dinosaurs and monsters they made during their youths; they make all sorts of utility-heavy items and outlandish art pieces, too.
Meet David Tracy, a 23-year-old graduate of UCLA's Department of Architecture and Urban Design. Mr. Tracy is a LEGO fan, and a lamp fan, as well, and he's combined his two interests into one rather whimsical but ultimately haute line-up of lighting implements.
You can admire Mr. Tracy's lamps, and ponder all of the things a LEGO can do, at Forest Lawn Museum through May 26. The artist "spent thousands of hours over the past five years conceiving of and creating the pieces in this exhibition," says a rep. But any LEGOish knows that "thousands of hours" is pretty much par for the course.
And the lamps on display? There are sixteen in all, along with a couple of other LEGO-filled artworks. Each piece includes thousands of LEGOs. How many thousands? The smallest of the lamps boasts some 2,700 blocky components.
U.S. & World
Stories that affect your life across the U.S. and around the world.
They're high style, indeed. Next up: A store in any of our city's design districts, devoted solely to LEGO accouterments for our homes? Like Halloween, animation, and other properties that were once the province of childhood, LEGO love is definitely evolving into an adult pastime first.
Copyright FREEL - NBC Local Media