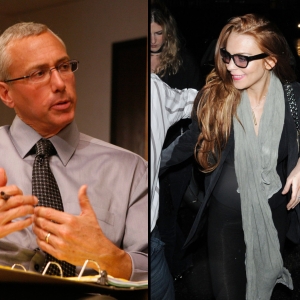 Lindsay Lohan took to what appears to be her official Twitter page to defend herself after "Celebrity Rehab's" Dr. Drew Pinsky expressed concern over the actress in comments to Parade Magazine.
"I thought REAL doctors talk to patients in offices behind closed doors," she Tweeted on Friday, not referring directly to Dr. Drew. "Am I wrong? Hmmmmm. I think NOT! Yay!"

VIEW THE PHOTOS: The Brit Pack: Hot Shots Of Stars From The UK!
U.S. & World
Stories that affect your life across the U.S. and around the world.
In an article on Parade.com, posted on Thursday, Dr. Drew expressed concern for what he believes are Lindsay's bad habits.

"I'm convinced that she'll get sober one day," he said. "But I'm afraid that between now and then, she may get a nearly mortal wound of some type. I'm really convinced that something horrible is going to have to happen to her before she really gets over it and embraces sobriety. She needs to give it up. I have this image that she's going to lose a limb or something before she does. And it scares me."

VIEW THE PHOTOS: Lindsay Lohan - From Teen Queen To 'Mean Girl'
Lindsay's rumored Tweet, appears to have come while the star is overseas. LiLo was spotted in London earlier this week, where she was wowed by one of the UK's own biggest celebs.

"Ohhh-ma-gawd! The queen literally just drove past us (us being me&my brother Michael)," she Tweeted on Thursday.
Related Content from AccessHollywood.com:
VIEW THE PHOTOS: Keepin' It Real With TV's Hottest Reality Stars!
PLAY IT NOW: Ellen DeGeneres & Portia de Rossi Talk Lindsay Lohan & Twitter
PLAY IT NOW: Lindsay Lohan Hits The Red Carpet At A/X Watch Event (April 16, 2009)

MORE ACCESS ON THESE TOPICS: Lindsay Lohan - Celebrities - Twitter

Copyright NBCAH - Access Hollywood