A mysterious light that streaked across the sky Wednesday night, igniting a social media firestorm from California to Nevada and Utah, was a Chinese rocket re-entering Earth's atmosphere, according to U.S. Strategic Command.
Videos and photos from across Southern California poured into NBCLA's Twitter feed after the light went streaking across the sky. The light was seen in skies around 9:30 p.m. PST over the Inland Empire, Ventura County, Orange County and beyond. Social media users also reported seeing it in Nevada and Utah.
Matt Holt, a Bay Area resident, shot video in San Jose of a large cluster of lights shooting across the sky to the bemusement of a large crowd.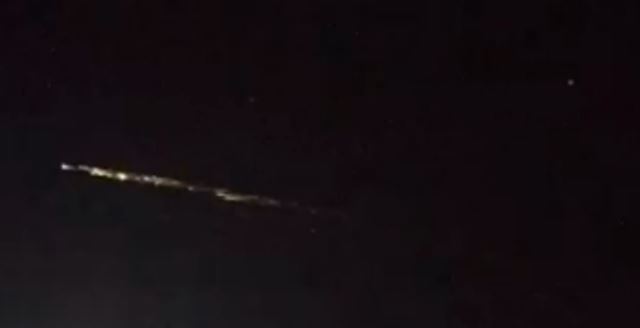 U.S. Strategic Command spokeswoman Julie Ziegenhorn wouldn't say if the Chinese CZ-7 rocket ever posed danger to people on the ground. She said the command often sees re-entries.
U.S. & World
Stories that affect your life across the U.S. and around the world.
Jonathan McDowell, an astronomer at the Harvard-Smithsonian Center for Astrophysics in Cambridge, told the Los Angeles Times the Chinese rocket launched on June 25.
"Anytime you have a report of a luminous object, it's a fair bet it's a natural event," said Ed Krupp, Griffith Observatory's director of 45 years. "It's likely space debris or a meteor produced by interplanetary debris."
Krupp said it wasn't so much what the object was composed of that caused the light, but what the atmosphere around it was doing.
"Typically a small pebble that enters the Earth's atmosphere at that high altitude and is heated up by the friction that it encounters will become so hot that it will in fact cause the air around it to glow -- kind of a tube of glowing air -- maybe as much as 10 miles in diameter."