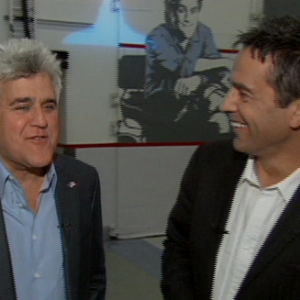 On Monday evening, news broke that Jay Leno, who will vacate the "Tonight Show" seat in spring of 2009 when Conan O'Brien takes over, has a new show lined up at NBC in primetime – and the late night king told Access Hollywood the new show would raise the stakes with higher production values and more daring stunts – possibly even Jay jumping out of an airplane!

Access' Tony Potts spoke with Jay following the press conference in which the late night leader and NBC announced his new primetime series, which Jay believes is coming at the exact right time in the history of television.

U.S. & World
Stories that affect your life across the U.S. and around the world.
"I think 10 years ago this probably wouldn't have worked. TV is changing, and I asked NBC, 'Do a little research, see what people like' and people say they wish the monologue was on earlier, they wish it was comedy on earlier," Jay told Tony.
"With the economic situation, people get up earlier to go to work, maybe they're taking public transportation instead of driving in their car."

VIEW THE PHOTOS: The Latest Star Sightings
Jay hopes viewers who are forced to get up earlier for work will be able to enjoy the new show.

"People are working harder, longer hours… 10:30 is the new 11:30! 11:30 seems really late to most people, and I don't mean to people in my age group," Jay said with a laugh. "I mean people in their 20's and 30's go, 'Ah, you know, I gotta get up at five o'clock, I can't be watching something at 11:30 at night.' So I thought this might be an interesting alternative."

In addition to his opening monologue and well-known comedy segments "Headlines," "Jaywalking" and "Battle of the Jaywalking All-Stars," Jay told Tony the new show will have a slew of new exciting elements viewers might not have seen in the past.

"We will keep the elements of 'The Tonight Show' that worked, people like the monologue, people like the comedy bits… 'Headlines,' I'll bring with me," Jay continued. "The main difference is maybe we'll up production values a little bit. Get outside the studio more and do more stunt kind of things. I don't know, jump out of airplanes, whatever it may [be]! And, just new stuff to keep it interesting on a nightly basis. More newsmakers."

And how much longer can we expect to see Jay on television at night?
"Let's try and see how it goes. Obviously, you can pin people down, but if something's not working, you don't wanna be there and they don't want you there so, let's try it for two years," Jay added.
"If it works, 'Hey, great!' I mean that's essentially what most of show business is. You can make all the long term contracts you want, if it's not working, it's not working."
Related Content from AccessHollywood.com:
PLAY IT NOW: Jay Leno's New NBC Primetime Gig
PLAY IT NOW: Jay Leno Spoofs CNN's Hologram

MORE ACCESS ON THESE TOPICS: Urban

Copyright NBCAH - Access Hollywood