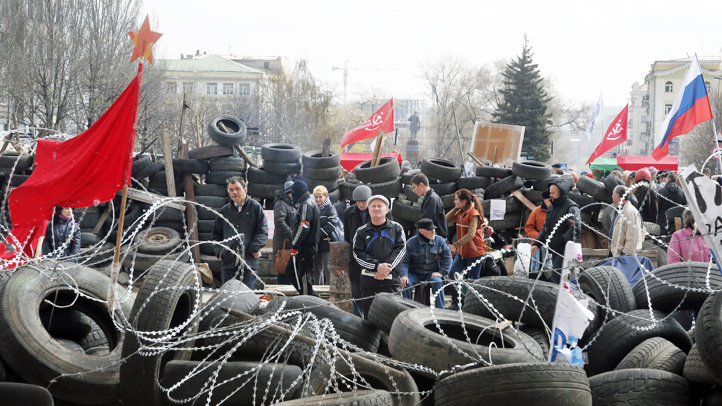 A Brooklyn man visiting Ukraine says he witnessed masked men handing out leaflets ordering Jews in eastern Ukraine to register with authorities.
Yosef Gurevitz, who is from Crown Heights and is in Donetsk visiting family, told NBC News he saw the men outside a synagogue earlier this week.
"There were about 100 of us outside the synagogue after Passover eve prayers [on Wednesday] when we saw three masked men in the crowd who started to hand out letters," Gurevitz said. "One of them tried to tape one on the synagogue door. Then they quickly left. When I read the letter I was in shock."
U.S. & World
Stories that affect your life across the U.S. and around the world.
The papers say Jews are required to register with a "commissar" by May 3.
"It's very worrying," said Gurevitz. "We're hoping its just a provocation but I always thought the days that Jews would become scapegoats for whatever reason were long over."
It's not clear who is behind the leaflets, and NBC News could not independently confirm Gurevitz's account.
But the United States has condemned the distribution of the leaflets as "grotesque," no matter who is responsible.
Speaking in Geneva after top diplomats from the U.S., European Union, Russia and Ukraine reached agreement on steps to de-escalate the situation, Secretary of State John Kerry denounced the leaflets.
"In the year 2014, after all of the miles traveled and all of the journey of history, this is not just intolerable; it's grotesque," Kerry told reporters. "It is beyond unacceptable. And any of the people who engage in these kinds of activities, from whatever party or whatever ideology or whatever place they crawl out of, there is no place for that. "
U.S. officials said the anti-Semitic leaflets, which recall the days of czarist pogroms and Nazi-era persecution of Jews, have appeared recently in the eastern Ukrainian city of Donetsk.
The leaflets seen by U.S. officials purport to come from the Donetsk People's Republic, a self-styled, unrecognized breakaway authority that seeks to join Russia. The Donetsk Republic press office denied any involvement in the matter and says the leaflets are fake.
Copyright AP - Associated Press