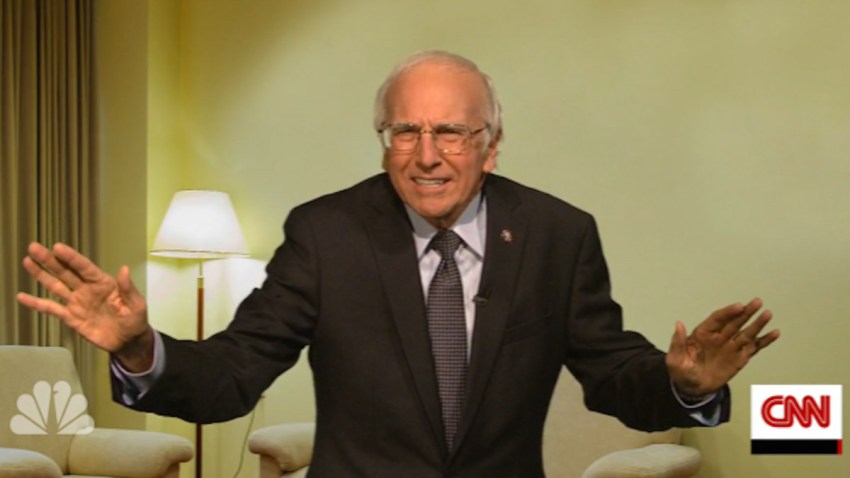 Donald Trump isn't the only person criticizing Bernie Sanders' supporters this weekend. It appears the Vermont senator has his own bone to pick with them, at least on "Saturday Night Live."
Larry David returned to Studio 8H to reprise his role as Sanders on "SNL's" cold open.
David, with his uncanny Sanders impersonation, thanked supporters for the surprise upset in Michigan's Democratic primary on Tuesday. He then apologized for his supporters making Facebook feeds "so, so annoying."
U.S. & World
Stories that affect your life across the U.S. and around the world.
"I mean, I love my supporters, but they're too much, right?" David said. "I'm great, but I'm not five posts a day great. With all due respect, get a life."
This week in politics was a gold mine for the show, which has a long tradition of lambasting presidential elections. And with so much to satirize, how could one possibly choose a single event for the cold open?
Well, you don't. Ben Carson's endorsement of the GOP frontrunner and the controversy surrounding violence at Trump's rallies were also lampooned in the opening segment as CNN's Jake Tapper, played by Beck Bennett, checked in with the candidates.
"SNL" alum Darrell Hammond returned to the sketch show as Trump for an "ebony and orangey" endorsement press conference, while cast member Jay Pharoah brought back his hilarious Ben Carson.
"Dr. Ben Carson is a very special man," Hammond's Trump said. "And for once, I don't mean that as an insult to the mentally challenged."
Pharaoh's Carson admitted they have some differences. "I questioned his knowledge on health care and he called me a psycho and a child molester," Pharoah said.
The show also took a shot at the violence at Trump rallies in the wake of the Chicago protests, as well as clashes at events in Dayton, Ohio, and Kansas City, Missouri.
"Breaking news right now, we're getting word now of yet another incident of violence at a Donald Trump rally," Bennett's Tapper announced. "Apparently the victim was this man, Dr. Ben Carson, who was attacked moments ago by an angry mob that mistook him for a protester."
Hammond scolded his supporters as the retired neurosurgeon held a "classy" Trump steak over his eye.
"Guys, what did I say? Not this one. This is one of the good ones," Hammond chided, warning the media not to "use this use this as an excuse to call me racist."
Pharoah defended his candidate, noting that Trump has many black friends like reality star Omarosa and Dennis Rodman.
"The list goes on," Hammond said.
"Mike Tyson," Pharaoh added.
"The list ends there," Hammond quipped.
The show also skewered Hillary Clinton with a fake campaign ad in which Kate McKinnon not only adopted positions similar to Sanders, she started to look and sound like him.
The ad ended with McKinnon's total transformation into Sanders, down to the over-sized suit, receding hairline and Brooklyn accent.
"Thank you millennials for lending your support for the biggest outsider Jew in the race: Hillary Rodham Clinton," she said.
Former Nickelodeon star Ariana Grande pulled doubled duty as host and musical guest.
In her monologue she joked she was "a singer was not a Starbucks drink" and belted out a tune about how she'd yet to have a "grown-up scandal."
Grande leaned heavily on her vocals, and showed her range in a sketch in which she belted out tunes by Britney Spears, Shakira, Celine Dion and Whitney Houston.
Grande played an intern at Jay-Z's Tidal music streaming company in danger of losing its files.
[[ 371908462, C]]
In an unscripted moment, Larry David as himself got a bit tongue-tied when introducing Ariana as the musical guest. But the show went on as scheduled, laughs and all.