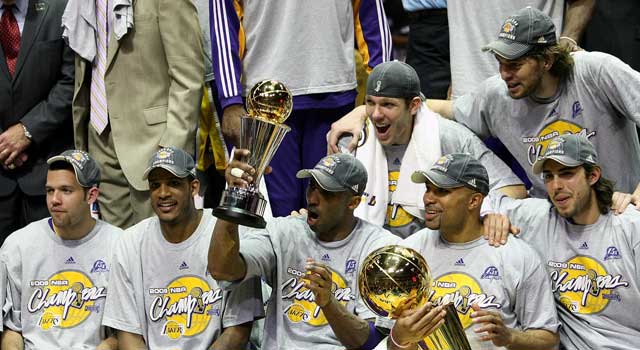 The NBA champion Los Angeles Lakers will get their victory parade, but they'll have to help pay for it.

City officials said the parade set for Wednesday will run from the Staples Center to a rally with players and coaches at the Los Angeles Memorial Coliseum.

The Lakers and the city will kick in about $1 million apiece for the party, which includes the price of rent for the Coliseum.

Critics including the police union complained that the cash-strapped city should not be putting money toward the Lakers in the light of looming layoffs, worker furloughs and hiring freezes, and there was speculation that no such parade would be held.

The Lakers beat the Orlando Magic on Sunday to win their 15th NBA title and first in seven years.
"The idea that we wouldn't have a parade is untenable, (and) should we be fortunate enough to win I expect that we'll have a parade,'' Mayor Antonio Villaraigosa said Sunday before the game. "I also expect that we'll figure out how we fund it, working with the private sector, to help us do that."

The mayor made his comments to reporters as he marched through West Hollywood in its annual Gay Pride Day parade. His handlers rushed him away before journalists could ask how the city, which is facing bloody budget cuts, could afford to spend anything on crowd control costs that could far exceed $1 million.
The head of the union that represents LAPD officers criticized the expense again Monday, saying no public funds should be spent on a celebration when the city is facing a massive budget deficit.

"I think we can celebrate it using private funds, not public funds," said Paul Weber, president of the Los Angeles Police Protective League. "I think it's inappropriate to be spending money on this when we've got people literally losing their jobs due a lack of resources.

"We believe that at this time when the city has declared a fiscal emergency, it's not appropriate to be furloughing civilian workers, closing down city facilities and curtailing city services to residents ... and then holding a parade," he added.

The team has met with Los Angeles police and other city officials to plan a parade. The parade will start at Staples Center and go down 2-1/2 miles of Figueroa Street to the Los Angeles Memorial Coliseum.

The firm that operates Staples on behalf of the team has rented the Los Angeles Memorial Coliseum for a post-parade rally, police and Coliseum officials said Friday. Details of the event in the 94,000-seat facility are being held until they can be announced on Lakers broadcast-rights stations after a championship is clinched.

The parade route and Coliseum rally would be a departure from years past, when shorter victory parades started at City Hall and snaked through downtown to Staples Center. Those events attracted upwards of one million attendees each and cost the city more than $1.1 million apiece.

The parade route down Figueroa Street is much longer, and would bring a parade attracting hundreds of thousands of boisterous people through some pricey car dealerships, street-worn strip malls, and the USC campus perimeter.

Some of those businesses suffered hundreds of thousands of dollars in damages in celebrations earlier this decade, when vandalism and arson broke out after Lakers championships games. During the 2002 parade, two television news trucks and some city paramedic units were wrecked by parade fans dancing atop them on a street next to the Staples rally.

Team players wrote out checks to pay for new fire trucks.

Police and team officials met last Thursday to talk about crowd control measures along the proposed parade route, including renting enough cement or metal railings to line 2-1/2 miles of Figueroa Street.

Subsidies for local street fairs, 10K runs and other special events would be chopped under an emergency city budget plan that gets a final vote from the city council next week. But even if passed, the plan would not go into effect until after the end of the championship series, according to The Times.

The city's budget deficit is forcing the city council to negotiate layoffs with labor unions and to consider unpaid days off every other Friday for city employees.
U.S. & World
Stories that affect your life across the U.S. and around the world.
"City employees have been asked by their employers to take a massive pay cut,'' said Barbara Maynard, spokeswoman for the Coalition of L.A. City Unions, representing about 22,000 workers. "We do not believe it is appropriate in this economic climate for taxpayers to be funding a parade."
Copyright Archive Sources