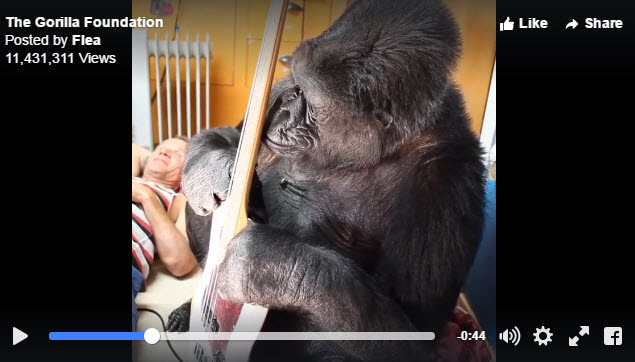 Most people know by now that 45-year-old Koko the gorilla, born at the San Francisco Zoo, knows sign language.
But who knew she could play bass guitar?
Red Hot Chili Peppers' bassist Flea did. The Australian-born rocker, who apparently is one of the gorilla's favorites, got to hear Koko strum - or rather, try to strum - at the Gorilla Foundation in Woodside, California. The foundation posted a short video of their jam session, adding: "Koko rocks a flea bass like it ain't nuthin."
U.S. & World
Stories that affect your life across the U.S. and around the world.
The Aug. 19 post, also on the Chili Peppers Facebook page, has had more than 11 million views so far.
Flea appeared to be starstruck by Koko's rudimentary bass playing.
"This is the greatest thing that ever happened," Flea said. "I will never forget."
The Gorilla Foundation's development director Jane Narich told NBC Bay Area on Tuesday that it was really great having Flea come to the foundation — the rocker emailed that he wanted to play with Koko about six months ago, and his wish was granted.
Narich added that Koko has had a long line of famous visitors meet with her over the years including Mister Rogers, Betty White and Robin Williams.
Koko is probably the world's most famous gorilla, all because she learned American Sign Language in the 1970s with Dr. Penny Patterson.
Narich is quite enjoying all the buzz. She's hoping the jam session will bring awareness to her foundation, which she would like to upgrade for the other gorillas living there.
Donations to support the Gorilla Foundation can be made at Koko.org.