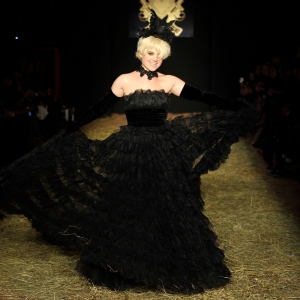 Betsey Johnson took a tour through the Wild West on Sunday, showing off a newly model-slim Kelly Osbourne as her head bandito.

Some of the looks — inspired by saloon girls, vagabonds, gamblers and other ne'er-do-wells — will be available immediately in Betsey Johnson stores, a nod to the reality of fast fashion. Other looks showed in eight days of previews at New York Fashion Week won't be available until fall, though customers — and copycats — are eagerly watching online.

Osbourne emerged as the first model of the evening with a bandanna mask, playfully wielding toy pistols before revealing her face. She later emerged in a handlebar mustache.

Johnson had luck with some of her looks inspired by bank clerks, gamblers and robbers — perhaps tapping into the adapted menswear trend popular on other runways. Girlier looks with prairie patterns, tiered skirts, corsets and bunching on the behind were less wearable.

But for Johnson, it's all about the show. Sunday's had nods to the death of Alexander McQueen — a model in a bodysuit held a "Long Live McQueen" sign — and a more playful tribute to Valentine's Day, with models spelling out "LOVE" in sequins on their behinds.

Johnson herself came out for her final cartwheel in a striped union suit with a sequined heart on the rear, wearing a mustache that seemed to scare her granddaughter when she went to grab her hand for the final bow.

Johnson cartwheeled alone, undaunted, followed by a parade of models carrying giant inflatable hearts.
Copyright NBCAH - Access Hollywood