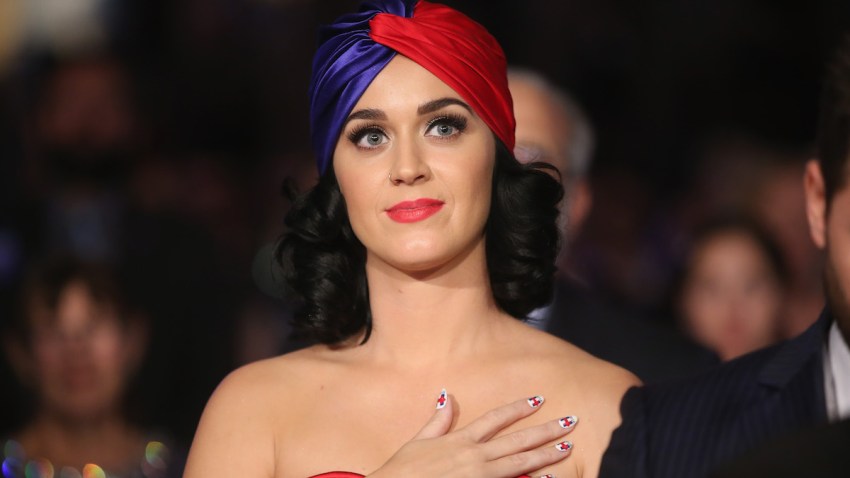 Cue the early Fourth of July fireworks for Katy Perry, the queen of Twitter.
The 31-year-old pop star, who joined the social network in 2009, set a new record when she reached 90 million followers on Friday, retaining her title as Twitter's No. 1 most followed user.
It's party time, @katyperry! With 90 million on the guest list, we're gonna need a really big dance floor. ❤️ pic.twitter.com/TiuHfZllPW — Twitter (@twitter) July 1, 2016
U.S. & World
Stories that affect your life across the U.S. and around the world.
As of Friday morning, Justin Bieber stood at No. 2 with 83.8 million followers, Taylor Swift comes in third with 78.9 million, President Barack Obama is No. 4 with 75.7 million and YouTube's Twitter account places fifth with 62.7 million. Rihanna, Lady Gaga, Ellen DeGeneres and Justin Timberlake, as well as Twitter's own account, make up the rest of the top 10 list.
Selena Gomez, is No. 14 on the list with 43.7 million followers. In March, she became the most followed person on Instagram, where she currently has 87 million fans. Perry ranks No. 17 on the photo-sharing site with 51.4 million. [[290527361, C]]
Check out 10 of Perry's most retweeted and liked tweets over the years, which have included messages to a One Direction member, a possible response to Swift and kudos for two other pop stars.
Smoothie of the Day: A Peanut Butter Drink Inspired by Katy Perry
1. March 12, 2012: Perry congratulates Niall Horan after his band One Direction reaches No. 1 on the U.S. iTunes chart:
Retweets: More than 115,900
Likes: More than 71,200
One Direction was formed on "The X Factor" in 2010 and its members initially auditioned as solo singers. Perry had served as a guest judge during Horan's first audition, giving her approval to send him to the next round but saying he needed more experience.
2. Oct. 4, 2012: Perry is a proud Bieber fan:
Retweets: More than 99,200
Likes: More than 49,200
After attending a Bieber concert in Los Angeles with friends, including kids, Perry posted a Twitpic photo of the group sporting replicas of the singer's then-signature purple hoodie, writing, "WE ARE BELIEBERS!"
3. Sept. 6, 2012: Perry and Horan's Twitter love affair continues:
Retweets: More than 63,300
Likes: More than 40,600
Perry had kissed Horan at the 2012 MTV Video Music Awards, where they took home three awards. He posted a pic of the smooch on Twitter, saying, "@katyperry looks like its official ... me and you," to which she responded with a saucy reference from The Graduate.
4. July 12, 2011: Perry praises Demi Lovato for her new single "Skyscraper":
Retweets: More than 67,800
Likes: More than 31,400
Is Katy Perry's New Perfume Throwing Shade at Taylor Swift?
5. July 22, 2015: Perry appears to put Swift on blast amid a Nicki Minaj spat:
Retweets: More than 59,300
Likes: More than 84,400
Nicki Minaj and Swift got into a Twitter spat over the MTV Video Music Award nominations, after the rapper tweeted her frustration over her music videos for "Feelin' Myself" and "Anaconda" not being nominated for Video of the Year. She tweeted, "If your video celebrates women with very slim bodies, you will be nominated for vid of the year."
Many fans speculated she was referring to Swift, who was nominated in the category for her "Bad Blood" video — and won. The singer tweeted at Minaj that "it's unlike you to pit women against each other. Maybe one of the men took your slot."
Perry then appeared to weigh in.
6. July 14, 2013: Perry mourns Cory Monteith:
Retweets: More than 50,800
Likes: More than 23,900
The "Glee" actor was found dead at age 31 in his native Canada. He was mourned by scores of fans and celebs online.
Cory Monteith: A Life in Pictures
7. Sept. 28, 2015: Perry speaks Portuguese
Retweets: More than 54,500
Likes: More than 51,100
After performing in São Paulo, Brazil, Perry tweeted partially in Portuguese, "Dead. Beautiful. Night."
8. Feb. 1, 2015: Perry's pre-Super Bowl throwback photo:
Retweets: More than 51,800
Likes: More than 106,200
Hours before Perry took the stage at the 2015 Super Bowl Halftime Show, she posted a photo of herself as a little girl, with an inspiring message.
9. Aug. 24, 2014: Perry fangirls over Blue Ivy Carter
Retweets: More than 47,200
Likes: More than 82,900
Perry was one of many fans who was super pumped to see Beyoncé and Jay Z's daughter make her television debut at the 2014 MTV Video Music Awards.
10. Perry urges fans to #PrayForParis
Retweets: More than 47,700
Likes: More than 61,900
Perry was one of many celebs who took to social media to tweet their support to those affected by the terrorist attacks in Paris.
Copyright E! Online