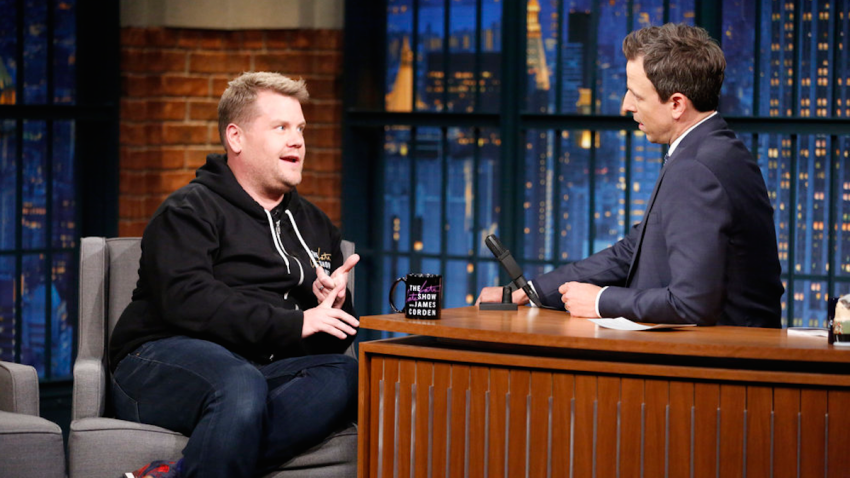 James Corden is gearing up to host the Tony Awards Sunday, so Wednesday night he ran some of his ideas by Seth Meyers while appearing on "Late Night."
Because "The Late Late Show" host has to keep everyone entertained during commercial breaks, Corden told Meyers he was thinking about getting the audience involved.
"I thought, 'Why don't we have a big, sort of karaoke-type sing-along in the Beacon theater?' Because there's all these incredibly talented people in there," shared Corden, who hilariously wore memorabilia promoting his own late-night talk show.
U.S. & World
Stories that affect your life across the U.S. and around the world.
Although he wants everyone to start singing, there's one person in particular whom he'd like to get onstage.
"So I might go out and give them some drinks and then see if I can get, like, Barbra Streisand to sing something," Corden continued, adding that his karaoke special (note: not carpool karaoke) would take place only "during the commercial breaks." Unfortunately, commercial breaks don't last that long.
"This is a great idea, but here's my genuine fear, if Barbra Streisand is singing, and then you say, 'No, you have to stop because the show's coming back on, [everyone is] going to be mad at you," Meyers warned.
James Corden Talks Toddlerography Skit &2016 Tonys
"Well, I think if I get Barbra Streisand to sing, I won't care," Corden replied. "That's not going to happen, though. The truth is it's more likely going to be me and my dad singing 'You've Lost That Loving Feeling.' That's more likely to happen."
Corden, who just so happens to be a Tony Award winner, admitted he's "very nervous" about hosting. The British TV host previously gushed to The Hollywood Reporter about his duties at this year's awards show, telling the magazine that he felt honored to be asked.
"To host the Tony Awards means more to me than, genuinely, any other awards show in the world," Corden, 37, said. Although he might be slightly biased, Corden shared the reason why the Tonys are his favorite awards show.
He added, "The amazing thing is we talk about, like, the Super Bowl, and, 'Oh, what's the halftime show gonna be?!' Like, there's 10 halftime shows in this two-hour awards show!"
(E! and NBC are both part of the NBCUniversal family.)
Copyright E! Online