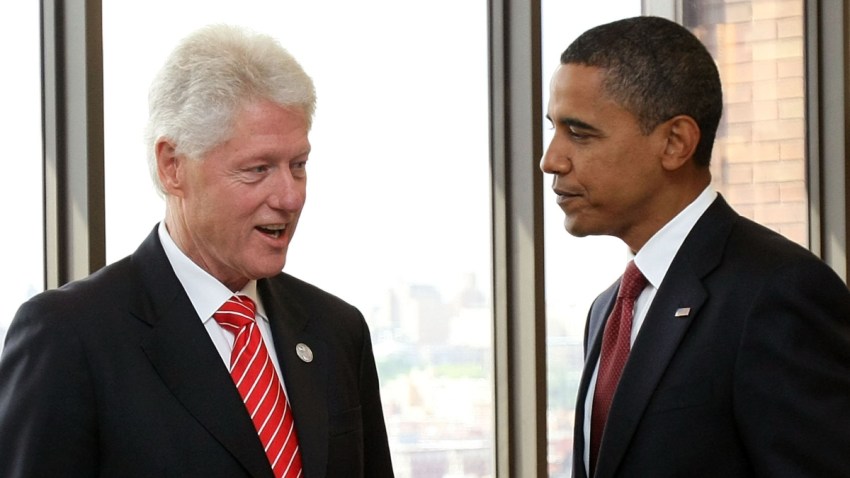 Sept. 19 is International Talk Like A Pirate Day.
After this weekend, April 12 might become International Keelhaul A Pirate Day. With a rescue of captured Richard Phillips, captain of the Maersk Alabama -- and killing the Somali pirates holding him hostage -- the US Navy created a feel-good Easter story.
Even more significantly in a political sense, President Barack Obama suddenly makes himself look rather different on the national security front than either of his two Democratic predecessors.
U.S. & World
Stories that affect your life across the U.S. and around the world.
When Americans hear the words "hostage," memories inevitably arise of the 444-day ordeal 30 years ago when embassy staff was held captive by Iranian revolutionaries. That stand-off helped destroy President Jimmy Carter's popularity. Adding to the feelings of impotence, were Carter's rescue orders that ended in eight U.S. helicopters crashing in the Iranian desert. Between the national security debacle and the deteriorating economy, Carter looked ineffective all around.
The final humiliation was when the hostages weren't released until Ronald Reagan took the oath of office Jan. 20, 1981.
Even closer to the Somali shoreline where Phillips was taken by pirates, 18 members of the armed services lost their lives in a Mogadishu battle with Somali rebels in October of 1993 -- most after two Black Hawk helicopters were downed by rocket-propelled grenades. The incident was chronicled in the book and movie Black Hawk Down. Following the battle, President Clinton ordered U.S. forces out of Somalia -- a response that Osama bin Laden has referenced as an example that America will back down when confronted.
Though the stakes were much different in this latest hostage situation, President Obama has shown that he's willing to act quite decisively. By giving the go-ahead to the Navy, Obama shows that he is willing to use force -- successfully -- in order to free an American. No U.S. individual was harmed, and the pirates were given a strong message: America under President Obama will not wait forever to negotiate with pirates. It also sends a clear message on how the civilized world needs to react to the expanding pirate presence off the coast of Somalia.
But for Obama, the timing couldn't have been better -- mere days after he returned from a foreign trip offering words of conciliation to the world. There, he apologized for America acting "arrogant." Well, now back in the White House, the president seemed to borrow advice from Teddy Roosevelt: "Speak softly and carry a big stick."
Or at least an accurate sniper's rifle.
Robert A. George is a New York writer. He blogs at Ragged Thots.
Copyright FREEL - NBC Local Media