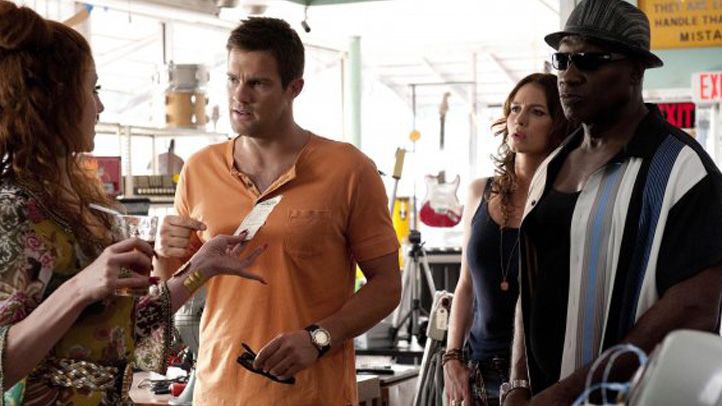 The next episode of "Bones" is going to form the skeleton of a whole new series – just don't call it a spinoff.
"Spinoff has always been a troublesome term to me," admits "Bones" creator and executive producer Hart Hanson, who introduces a collection of characters in Thursday's episode "The Finder" expected to comprise the cast of a new Hanson series of the same name next fall. "It's more like we did a crossover with a series that doesn't exist yet – and that we hope does come to exist."
Hanson explains the genesis of his particular "backdoor pilot," a series concept introduced within an existing hit show (successful examples include "All In the Family" begetting "Maude," "Happy Days" introducing "Laverne & Shirley," "Grey's Anatomy" launching "Private Practice" and "JAG" off-shooting "NCIS"):
U.S. & World
Stories that affect your life across the U.S. and around the world.
"I either write or work on a pilot each year – it's part of my deal [with 20th Century Fox]," says Hanson. "This year I was kind of laying low, and then 20th gave me "The Locator" novel called The Knowland Retribution by Richard Greener, and it is such a simple, clear good idea for a network series: a guy who can find anything, people or things."
The novel series focuses on Walter Sherman, a reclusive former military policeman (and, for TV, a service buddy of David Boreanaz's Booth) with a knack for finding the seemingly unfindable. "Good stories are generated by people after a tangible thing or outcome, and then if what they really want or their desires are at odds with that," says Hanson. "It seemed to me that doing a series based on a guy who could find things – both tangible and intangible – for people would be a really good idea for a series. It just generates so many stories. There's a line that I put in 'The Finder' crossover/pilot episode where Walter says to Brennan 'It's amazing how many times people ask me to find something, and the real treasure is something else altogether.'"
"A crossover really appealed to me because last year when I went to do a pilot I was away from 'Bones' for weeks and weeks, and this being a 'Bones' episode meant I didn't have to leave home," admits Hanson. "I could keep an eye on getting through the end of the season on 'Bones' while doing this spin-off at the same time, so it just all came together. It turned out quite well and I have great hopes for it."
Hanson quickly found his ideal casting choice in Geoff Stults, who guest-stars as Walter in the "Bones" episode. "The role of Walter Sherman was [originally] a bit darker," he explains. "He had some brain damage in Iraq and had a darker side, and then this man came in—Geoff Stults came in to talk to us and read the part and he was just really funny. He feels to me like if we don't make him a star on 'Finder' somebody else is going to grab this guy and make him a star. It was akin to how they must have felt when they saw Tom Selleck walk in the first time: a big handsome guy who's very funny and doesn't seem to be at all vain about his looks."
Stults is joined in the episode by cohorts Leo (Michael Clarke Duncan), his legal advisor/bodyguard, and Ike (Saffron Burrows), his bar-owning boat-driver/pilot. "Casting 'The Finder' was hilarious," says Hanson. "The part played by Michael Clarke Duncan was originally written for an old, skinny white man, and instead we got Michael Clarke Duncan, who is none of those things! Saffron Burrows is in it as well, and the three of them have a great chemistry."
But the producer took pains not to take too much of the spotlight away from "Bones'" regulars. "My worry is that the Bones' fans will feel away from their Bones' people more than they would be comfortable, unless these guys charm them instantly – which I hope happens. The only character from Bones who doesn't appear in it to work with Walter and Ike and Leo is Sweets. Everyone else is in it and interacts with him, so I hope we're not away too much – but at the same time, we had to make an episode that showed what these other characters can do and show them together enough that we would see what a series with them would look like. So it's quite an experiment. I guess we'll know Friday morning how the Bones' fans took to Walter, Ike and Leo!"
If the premise resonates with viewers, Hanson's already looking to fill out the cast with a leading lady for Sherman. "The other main character will be Isabelle who is attached probably to the Miami FBI – It could be Miami field office of the FBI or the Miami Dade Police Force," he says. Just don't expect the kind of long-simmering love dance that characterizes "Bones." "Isabelle is Walter's main squeeze, on and off," he declares. "This is his law enforcement connection, with whom he sometimes has an on again/off again affair. I'd like to really avoid doing another 'will they or won't they' series. It's more emotional than romantic."