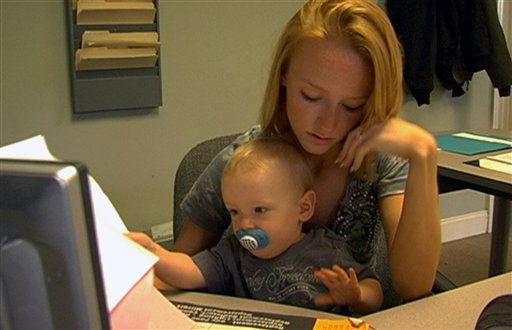 You can't escape the young, smiling faces on the magazine covers while you wait in the checkout line at the grocery store.
Not the Kardashians, Britney or even Lindsay Lohan -- the hot, new "it" girls of Hollywood are the stars of MTV's docu-drama "Teen Mom."

The show follows Amber, Maci, Farrah and Catelynn: four teenagers who got knocked-up at age 16 and then agreed to let cameras chronicle their daily struggles and stresses of being a new parent.

The drama quotient on the show is high, after all the subject matter is children raising children. And perhaps, that is what makes the show so popular.

With more than 3 million people tuning in each week, viewers can't get enough of these unlikely TV stars.
Major gossip magazines like US Weekly, OK!, and People magazine have realized "Teen Mom" baby drama sells and have turned the teens into cover girls.

It begs the question: is the "Hollywood Machine" glamorizing teenage pregnancy?
U.S. & World
Stories that affect your life across the U.S. and around the world.
"Most of the magazine editors are trying to be cautious with this issue. I know that MTV is very concerned on how the teens are portrayed," said Dr. Drew Pinsky, a well-known addiction specialist who also hosts "Teen Mom" reunion shows on MTV.

Drew also told NBCLA that the show breaks down the misconceptions about teen pregnancy. He points to a new study by the National Campaign to Prevent Teen Pregnancy that shows the series is having a positive impact on prevention.

"Teens are not unsophisticated media consumers," adds Drew. "They understand what they are watching. Yes, it creates great interest and therefore it ends up on the cover of magazines, but they do not think they are watching something glamorous."

That message is hitting home to 16-year-old Ana Paea, a high school student in Riverside: "I feel bad for the girls on the show. They don't get the same opportunities as I do to do fun things in school."

Laura Macnamara, a teacher and mother of two in Encino, believes the show doesn't tell the whole story.
"As I watch the show, there is no way the screen can communicate the emotional financial, physical strain parenting is at times so the 'reality' is whitewashed no matter what the intentions of the producers are," Macnamara said.

On or off TV, teenagers sporting baby bumps aren't hard to find. According to a new report by the Centers for Disease Control, three of every 10 American girls will become pregnant by the time they are 20.

Media watchdog group, Parents Television Council, believes "Teen Mom" and other shows like it send the wrong message.

"They may not be glamorizing it, but they are normalizing teen pregnancy, creating an acceptance of it," said Tim Winter, president of the Parents Television Council. "The show sexualizes teenage girls and celebrates the 'act' without the consequence."