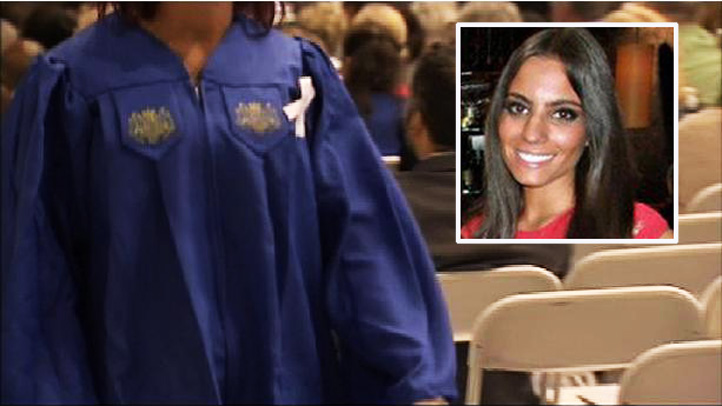 Students at Hofstra University wore white ribbons during their graduation ceremony Sunday to honor a fellow student who was accidentally killed by a police officer confronting an armed intruder.
The ceremony was held two days after Andrea Rebello died at her off-campus home in Uniondale.
While she was not scheduled to graduate, the 21-year-old junior may have been at Sunday's ceremony to support her older sorority sisters. Instead, the graduates honored her.
U.S. & World
Stories that affect your life across the U.S. and around the world.
Sunday's commencement began with a moment of silence, and then Hofstra's president read one of Rebello's favorite quotes: "Love the life you live. Live the life you love."
On Saturday evening, flags on campus were at half-staff and students held a silent outdoor vigil in front of a photo of Rebello. Students sang "Ave Maria," surrounded by candles and flowers.
Rebello was killed when a police officer aiming at the would-be robber opened fire, hitting her as well as the ex-convict, Dalton Smith, who had entered the house.
Police said Smith had gotten into the house through a front door that was left open. He forced three women -- including Rebello's twin sister, Jessica -- and a man who lived in the home upstairs at gunpoint to get money and jewelry.
They did not have a lot of money at the home, and Smith told one of the women to go withdraw money from the bank, threatening that he would kill one of her friends if she didn't return in eight minutes, according to police.
She called 911 as she drove to the bank and did not return to the home.
Police responded shortly after the 911 call. When they arrived, Smith told one of the hostages, Rebello's sister, to go downstairs and tell police everything was OK. When she opened the door, she ran out and told officers there was a man with a gun.
Police said two officers then entered the house and went up a narrow staircase. At that point, one of the officers saw Smith with Rebello in a headlock, and Smith pointed a gun at the officer.
The officer then fired the fatal shots, police said. The officer is an eight-year NYPD veteran and has been with Nassau County police for 12 years.
He is now out on sick leave, according to county homicide squad Lt. John Azzata.
Students and graduates who spoke with NBC 4 New York Sunday said Rebello's death has made them more aware of their surroundings. It's also given them a deeper appreciation for the new road ahead.
"It's a bittersweet moment," said junior Jucharan Dadra. "We're trying to celebrate something, but it's a devastating loss to our community here."
Rebello's funeral is scheduled for Wednesday in Sleepy Hollow, in Westchester County.
Copyright AP - Associated Press