Would you help the person who broke into your business twice and stole everything of value down to the copper pipes?
Probably not.
But Luke Smith figures they could use some help. The lifelong resident of Philadelphia's Germantown neighborhood is offering a little compassion and cash to the next burglar who hits his store.
"It was a deliberate change in my outlook, not to be angry about this," Smith said.
Pinned to a doorway inside the former cafe is a handwritten note and a $20 bill. In the letter, Smith, who says he's not a rich man, explains he bought the shop to fix it up and help bolster the struggling community. He offers the cash and a job to the thief because he concedes they "must really be desperate."
Also, the last guy – the Smith thinks the thief returned a second time – took everything of value from the shop.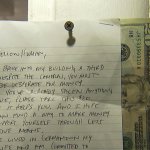 Smith obviously doesn't want the shop broken into again and has since installed surveillance cameras. Still, if it happens, the married father of four hopes the cash will help someone get back on their feet.
U.S. & World
Stories that affect your life across the U.S. and around the world.
"We just don't get reminded enough that we all should do that," he said.
Here's the full note:
Dear Fellow Human,

If you broke into my building a third time despite the cameras, you must really be desperate for money.

Since you've already stolen anything of value, please take this $20. I hope it helps you. And I hope you can find a way to make money and support yourself through less destructive means.

I've lived in Germantown my whole life and am committed to improving it. I want to hire locally and if you're looking for work you should drop by during the day sometime and offer your help. This building has been nothing but headaches and I could use a helping hand from my community.

I wish you luck and prosperity.

Sincerely,
Luke

P.S.: I'm not a rich man and have many mouths to feed, but you need this $20 more than I do. I'm sorry I can't afford more.