Philadelphia City Council honored a teen and his neighbor for saving a Philadelphia police officer from his cruiser after it burst into flames.
Joe Chambers, 17, and his 24-year-old neighbor Dante Johnson, who saved Officer Mark Kimsey last Saturday by pulling him from the burning car, were recognized by officials in City Hall Thursday morning.
A few days before, the officer himself thanked Johnson and the heroic high schooler.
"He's my hero, by far," said Officer Mark Kimsey. "If he wouldn't have pulled me out of that car, I'd still be sitting in it."
Kimsey, 30, was released from the hospital Monday after he was hurt in the fiery crash over the weekend. The married father was responding to a priority call around 5:25 p.m. Saturday when a Toyota pickup truck collided with his cruiser at the intersection of 28th and Tasker streets, police said.
The force of the crash left Kimsey trapped inside as the police cruiser burst into flames.
Seeing the flames grow around the officer, Joe Chambers, a 17-year-old volunteer firefighter with Leedom Fire Company in Delaware County, and his neighbor, 24-year-old Dante Johnson, rushed over to help.
U.S. & World
Stories that affect your life across the U.S. and around the world.
"I saw that it was a cop car," Chambers said. "Right then, I just started sprinting and did what I had to do."
Chambers and Johnson pulled Officer Kimsey from the window of his burning car.
"The door was slammed," Chambers said. "It was dented and wouldn't open. The car caught fire. He said he couldn't feel his legs. We had to drag him through the window, and he was ready for it."
As the two good Samaritans pulled the officer to safety, other witnesses pulled the injured driver from the pickup truck.
Officer Kimsey and the pickup truck driver were both taken to the Hospital of the University of Pennsylvania for treatment. Kimsey suffered trauma to his head from the airbag deployment and burns to his legs.
Chambers also suffered minor injuries and was taken to the Children's Hospital of Philadelphia. Later Saturday night, he visited Officer Kimsey and the two posed for a photo.
"It felt great just to see that he was OK,'' the Ridley high school senior said of Kimsey. "He said, 'I can't thank you enough.' I was like, 'You don't have to, it's fine.' I would do it any day of the week if I had to.''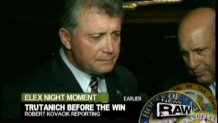 Kimsey left the hospital Monday evening and arrived at 17th District headquarters to file paperwork on the crash. Kimsey told NBC10 he's unsure when he'll be cleared to go back to work but felt grateful and lucky to be alive. He also thanked Chambers and Johnson for saving his life.
"I told him I owe him a steak dinner or something," Kimsey said. "I'll have to take him out."
The 52-year-old driver of the pickup truck also suffered head trauma and is listed in stable condition, police said. Police had originally said the driver of the pickup truck had fled the scene, but later corrected that report.