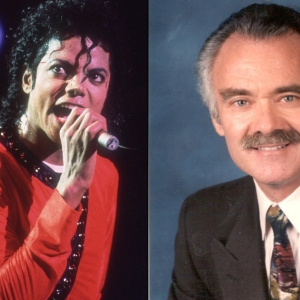 Dr. Steven Hoefflin, a longtime friend and doctor Michael Jackson, has claimed that the King of Pop "had lethal amounts of Demerol and Propofol in his body" at the time of his death.
In an interview on Thursday with Access Hollywood, Hoefflin, who performed surgery on Jackson after he sustained second and third degree burns while filming his 1984 Pepsi commercial, claimed he was speaking out on the authorization of his late friend's mother, Katherine Jackson, to put rumors to rest.
VIEW THE PHOTOS: Michael Jackson's Staples Center Public Memorial
U.S. & World
Stories that affect your life across the U.S. and around the world.
Hoefflin claimed he last provided care for Michael in 1998, and participated in a 2002 intervention for the star.
Hoefflin claimed to Access that according to a reliable source of his, Jackson's toxicology report indicated Michael "had lethal amounts of Demerol and Propofol in his body" when he died on June 25. Results from the LA Coroner's official autopsy of Jackson have yet to be publicly released.
VIEW THE PHOTOS: Michael Jackson Death Investigation: Who's Who?
Hoefflin claimed that the Demerol came from Dr. Arnold Klein – Michael's dermatologist – and the Propofol came from Dr. Conrad Murray, Jackson's personal physician in the weeks before his death.
Further, Hoefflin claimed it was Jackson himself who told him about his heavy drug intake — at the time of his intervention.
"Michael told me Dr. Klein was injecting him with massive amounts of Demerol" in 2002, Hoefflin claimed.
VIEW THE PHOTOS: Hollywood Remembers Michael Jackson
And authorities searched Murray's Houston office on Wednesday as they looked for what a Murray lawyer described as "evidence… of manslaughter."
On July 6, Murray's lawyer stated on his firm's Web site, "Dr. Murray didn't prescribe or administer anything that should have killed Michael Jackson."
When asked by Access if the family planned to "go after" those they believed were involved in Jackson's death, Hoefflin said they would.
"Of course they are," he said, adding an additional claim that Klein had given Jackson a number of drugs over the years.
"Dr. Klein is the one who made his face white by using Benoquin, a permanent bleaching agent," Hoefflin claimed. "[Michael] had Lupus and it was made worse by Dr. Klein's massive injections of collagen. Patients who have lupus should not have collagen… For many years, Dr. Klein was using the very powerful cortisone Celestine to inject into the deep pimples on Michael's face and nose – cortisone injections can thin out tissue in the face. I told him that he should not have any further injections… as it was thinning out his face and nose… [And Klein] was prescribing him narcotics under an alias name, Omar Arnold."
When reached for comment by Access, a spokesperson for Klein released a statement on Thursday, which did not directly address the allegations.
"The Coroner's Office again confirmed that Dr. Klein is not the subject of the death investigation," the spokesperson said in Thursday's statement. "Dr. Klein should not to be cast with the lot of other physicians who may or may not have anything to do with any investigation into the death of Mr. Jackson. The Coroner's Office has a security hold on the investigation and will not further comment. Dr. Klein is doing the same so as not to jeopardize the integrity of the Coroner's investigation.
"Dr. Klein has been maligned in the press by sources who have profit making agendas and/or have been paid by media companies who have given them an unfettered public forum in which to spout fiction and innuendo for cash," the spokesperson continued.
Hoefflin maintained to Access he has not been paid for his interviews — including one in Britain's The Sun, which ran on Thursday.
A spokesperson for Murray also responded with a statement to Access on Thursday.
"Until we get tangible results, we are not going to respond to someone's theory about how Michael Jackson died. We don't know how Michael Jackson died," the spokesperson stated.
During his interview with Access, Hoefflin said the Jackson family would also go after unofficial biographer Ian Halperin, who just released his new book, "Unmasked: The Final Years of Michael Jackson," earlier this month. Halperin has claimed in his book that the pop star was gay and that greed led to his death.
Hoefflin said fans should "boycott the book and burn it on the street."
A rep for Halperine declined to comment when contacted by Access.
Denying the gay allegation, Hoefflin, who Michael lived with the doctor during the time surrounding his 1987 album "Bad," also said he previously took the singer to the Playboy mansion.
"All the time, Michael was commenting on the beautiful women," he said.
Hoefflin also put down a number of stories circulating about the pop star, including one report that Michael had a hole where his nose should have been.
The LA coroner made an "involuntary error," Hoefflin said of the report, noting Jackson wore a compressive tape that he used to shape his nose on a nightly basis — not a prosthetic, which he thought may have confused the coroner.
"I believe that the coroner's office is profoundly competent and did a commendable job in their postmortem examination of Michael Jackson," he said. "It is my belief that the Los Angeles Coroner has made involuntary errors in their description of the anatomical findings."
Hoefflin said he has not been questioned by the police, but he's "sure [he] will be a witness."
Finally, Hoefflin denied doing the last plastic surgery on Jackson, which he claimed was done by another Beverly Hills plastic surgeon and attended by Klein.
A spokesperson for Jackson family attorney Londell McMillan was not immediately available for comment when contacted by Access.
Related Content from AccessHollywood.com:
PLAY IT NOW: Police Search Office Of Michael Jackson's Doctor (July 22, 2009)
PLAY IT NOW: Michael Jackson's Death: The Blame Game Rages On! (July 21, 2009)

MORE ACCESS ON THESE TOPICS: Michael Jackson - Deaths - TV One - Music - Celebrities

Copyright NBCAH - Access Hollywood