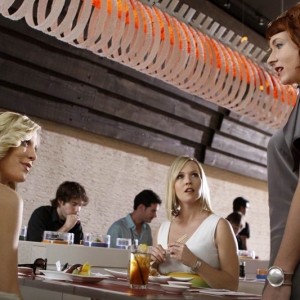 Fans are shouting and cameras are at the ready as screenwriter Diablo Cody swans her way up a red carpet. The only thing awry: ditsy Donna Martin, who has managed to snag herself in Cody's gown.

That's "Beverly Hills 90210" Donna, who is returning to her old stomping ground for two episodes of CW's second-generation version, "90210" — and, to Tori Spelling's delight, the character she played for a decade hasn't changed.

"What I love about Donna is she's never jaded," Spelling says. "Donna can kind of go through anything and she still has that girlish quality about her. I think that's something she'd have at any age. … That's Donna to me."

Spelling's run on "90210" starts with Tuesday's episode, which includes an appearance by "Juno" screenwriter Cody. Donna has come back to her hometown as a famous fashion designer,married and with a baby.

"I get to be a mom, which is fun. It's so crazy to think of Donna as a mother," Spelling said, smiling. "Sometimes, I can't believe that I'm a momma, too."

The actress is wed to Dean McDermott (they teamed on the "Tori&Dean" reality series), has two children, and says she can't help but bring her own experiences and maturity to the role.

"There's a sense of calmness, I think, to your being after growing up so much, and a sense of security. … You definitely bring that to your character, naturally," she said.

She and Jennie Garth, her fellow "Beverly Hills 90210" alumna who plays a guidance counselor on the CW series, made waves during the filming of a scene in which the pair cruised Beverly Hills' famed Rodeo Drive in a convertible Rolls-Royce.

A pack of a dozen or more photographers gathered to grab shots.

"Just another day out," Spelling said later, her tone even. "We all have paparazzi every day."

In her case, that's likely no exaggeration. The daughter of the late Aaron Spelling, who produced the 1990s hit "90210" and a host of other successful TV shows, she came of age in the spotlight after being cast in her dad's series.

It was only faux photographers taking part in the "90210" red-carpet scene shot, and they had a willing victim in Cody.

The Oscar-winning writer had related her fascination with the original and revamped versions of "90210" in Entertainment Weekly columns, which caught the eye of those in charge of the CW drama.

"The producers called and said, 'If you love the show so much, why don't you come on and do a cameo?'" Cody recounted. "I thought, 'Oh my God, this is my biggest dream come true.'"

Meeting Spelling and Garth — "absolute idols to me" — was a "huge thrill," Cody said. "Getting to be in a scene with them is beyond my wildest dreams. And the new cast I think is tremendous."

Is there, by chance, a facetious aspect to her admiration?

"Are you kidding me?" Cody replied, aghast. "This is 100 percent sincere. I love the show. I think it's great, and if everybody watched they would certainly agree with me."

Her passion for the original, she says, carries added emotional weight.

"I think it's sort of egg memory. I feel so closely connected to that show because I was watching it during my formative years, and those girls were my role models," said Cody, 30. "I think they were superior to a lot of female role models you see on television today."

Cody, playing herself in Tuesday's episode, runs into Donna and asks her to design a premiere-worthy dress. It's a knockout, but Donna's last-minute tinkering ends up getting her dragged with the writer on the red carpet.

Spelling, who pronounces her work on the spinoff "a great experience," said she treasures Donna's gaffes.

"The story line's been great. The next episode has some great comedic moments in it. I love the physical comedy; that's very Donna," she said.

Related Content from AccessHollywood.com:
VIEW THE PHOTOS: The New '90210'

MORE ACCESS ON THESE TOPICS: 90210 - Jennie Garth - TV - Tori Spelling

Copyright NBCAH - Access Hollywood