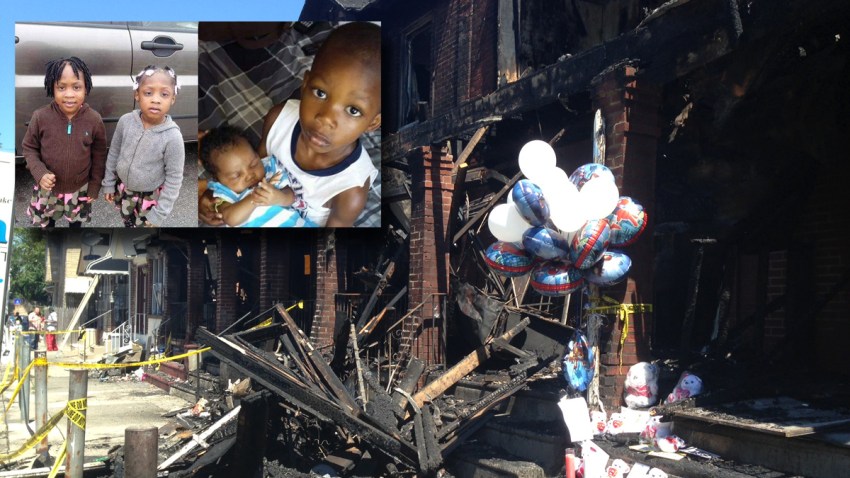 Philadelphia's fire commissioner is returning to the scene of a devastating weekend fire that killed four children, destroyed eight homes and displaced 32 people.
Fire Commissioner Derrick Sawyer and other firefighters will be going door-to-door along the 6500 block of Gesner Street on Monday to speak with residents and install new smoke detectors in their homes.
Sawyer's return to the block comes two days after a fast-moving and intense fire broke out along the single block street in Southwest Philadelphia. It was around 2:45 a.m. Saturday when the fire began on a couch sitting on the porch of 6516 Gesner Street, fire officials said. Flames quickly spread to seven other homes up and down the block through the porch roofs. Some residents were forced to jump from the second-floor of their homes, but four children were unable to escape.
Firefighters found the bodies of 4-year-old twin sisters Maria and Marialla Bowah, 4-year-old Patrick Sanyeah and his 1-month-old brother Taj Jacque in the basement of 6518 Genser. The boys along with several others were being babysat by Dewen Boawah, the twin girls' mother.
The woman told authorities she was able to get three of the children out of the burning home before being forced to jump from a second-floor window. She was critically hurt and remains at Crozer-Chester Medical Center in Chester, Pennsylvania.
The cause of the fire has yet to be determined. Witnesses told NBC10.com they heard firecrackers shortly before the fire began. Sawyer confirmed officials were looking at whether they could have sparked the blaze.
U.S. & World
Stories that affect your life across the U.S. and around the world.
The home where the children were killed did have 10-year smoke detectors installed by firefighters in August 2013, officials said.
While the Monday visit by Sawyer is meant to ensure residents' safety, they may not welcome him with open arms. Homeowners shouted and cursed at the commissioner, Mayor Michael Nutter and other city officials as they met with victims along the block on Saturday.
Residents say firefighters took exceedingly long responding to the 2-alarm inferno -- despite having a firehouse several hundred yards away. Sawyer says, however, the first fire crews were on scene in three minutes. The national average is nine minutes.
The commissioner did say one truck from the nearby firehouse, Ladder 4, Engine 40 & Medic 19, was out on another call when the call came in. But he says the other truck immediately responded and the already dispatched apparatus diverted to the scene shortly after. He added that the neighborhood's firefighters were devastated by the childrens' deaths.
Still, residents criticized the department over the weekend. NBC10.com has filed requests with the city for 911 calls and department dispatching data.
The Department of Licenses & Inspections could also begin knocking down the eight destroyed two-story rowhomes on Monday.