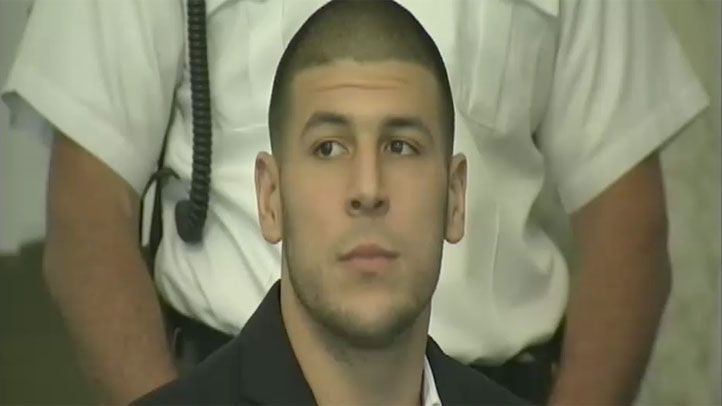 Prosecutors in the murder case against former New England Patriots tight end Aaron Hernandez want the judge to recuse herself.
Hernandez, a Bristol, Connecticut native, was at a pretrial hearing on Wednesday for the first time in court since being arraigned.
Assistant District Attorney William McCauley said he plans to file a motion to ask Judge Susan Garsh to give up the case.
U.S. & World
Stories that affect your life across the U.S. and around the world.
He hasn't explained why but referred to a 2010 case he and Garsh were both involved in. At the time, he accused Garsh of being antagonistic to prosecutors and limiting or excluding their evidence.
Hernandez's lawyers said they'll object to a recusal. Garsh didn't hear arguments on the issue.
Hernandez has been indicted in the killing of 27-year-old Odin Lloyd, a semi-professional football player who was dating the sister of Hernandez's girlfriend.
He has pleaded not guilty.
Another issue discussed on Wednesday was the defense team's request for a gag order because of a "torrent" of material that they said was leaked to the media.
"I think this is a case that requires some stronger involvement of the court in limiting extrajudicial statements because I think Mr. Hernandez's right to a fair trial has already been substantially impaired," the defense said. "I simply want to prevent future damage based on extrajudicial statements."
Prosecutors responded by saying information that they have adhered to professional rules of conduct. The judge cited some reports that mentioned "theories" from unnamed law enforcement sources.
The prosecutors said the discussions, as reported, had not happened and that information attributed to blind law enforcement sources was "blatantly" not true.
The judge asked what steps the state had taken to address where the information was coming from and they said they have repeatedly met with police and others involved in the investigation and ordered that no information be discussed outside of the investigation.
Garsh denied the order, saying that rules of professional conduct prohibit lawyers involved in the case from making "extrajudicial" statements.
Jury selection is likely months away, Garsh said, and the process will ferret out people who cannot be fair and impartial.
Another matter before the court is the defense team's request for preservation of evidence.
The judge asked prosecutors if they are aware of any evidence that has been lost or destroyed and they said no.
The defense said they are asking to made aware should any evidence be lost or destroyed, when and why.
Ultimately, Garsh decided that the state must notify the defense should that happen when it is discovered.
Hernandez took the stand after the attorneys brought up that Assistant District Attorney Patrick Bomberg's wife is a partner in Fee's law firm. Fee said steps have been taken to avoid any conflict of interest.
Hernandez took the stand to take questions and said he understood the charges filed against him and that there could appear to be a conflict of interest, but chose for Fee to continue to represent him.
Hernandez was indicted in August in the killing of Odin Lloyd, a 27-year-old semi-professional football player from Boston who was dating the sister of Hernandez's girlfriend.

He pleaded not guilty to murder and five weapons-related charges last month. His attorneys agreed then that he continue to be held without bail but reserved the right to seek it later. The defense said the state will not be able to prove its case during a jury trial.

Four others, including Hernandez's girlfriend and cousin, are facing charges in the case.

Copyright AP - Associated Press